Thanks for stopping by to learn more about the #MeTooReckoning Workshop.
We believe there is a reckoning underway, and we want this a new self-paced workshop to help you navigate it.
Southern Baptists are feeling the shockwaves of it over the past year. The release of the Guidepost Solutions Report in May brought to light hundreds of known abuse cases, and also more than two decades of cover-up. At the SBC last week passing minimal reforms going forward.
The Episcopal Church is facing questions from survivors of abuse and harassment. Sexual abuse in the Roman Catholic Church has been coming to light for more than two decades in the US. Virtually every religious body in the United States and beyond has been put on notice. As more people are listening and believing survivors, a groundswell of support is building.
Just before the 2017 resurgence of the #MeToo movement, pastor and author Ruth Everhart published her memoir Ruined. Then in 2020 she followed it with The #MeToo Reckoning. In her latest book she offers biblical and theological guidance. And she narrates stories of abuse, harassment, and misconduct often told to her following her memoir release. Her book helps church leaders think about how to respond when the problem comes to their church or their church members.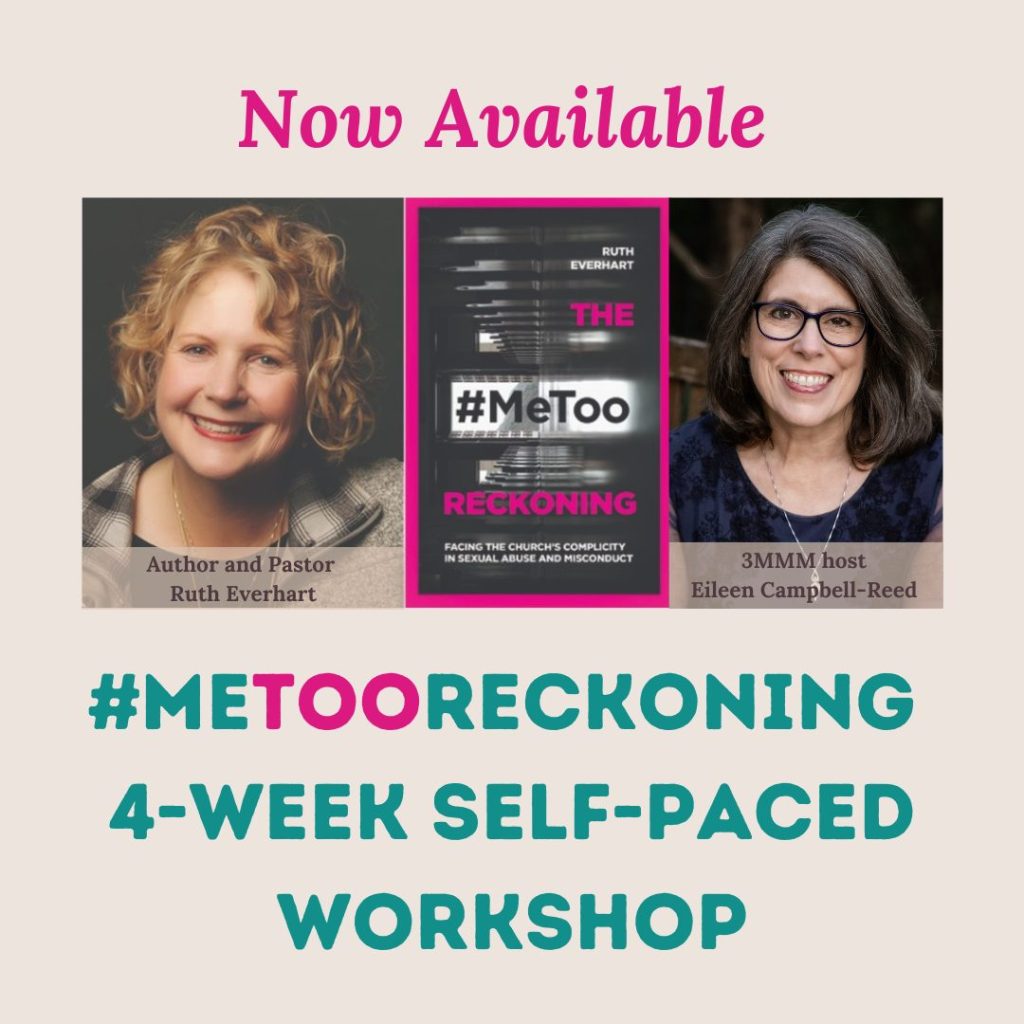 A #MeTooReckoning Workshop for You
The #MeToo movement was founded by Tarana Burke in 2006. She worked with teen girls in Alabama. And she launched the phrase to remind people just how many women and girls could say "me too" when it came to sexual assault and violence. In 2017 the Twitter hashtag exploded on many social media platforms. It launched into a global movement that year and persists even now.
Far too many women in churches have experienced abuse, sexual misconduct, manipulation or rape. Far too many church members and their children do not find church to be a safe place. Thus #ChurchToo has come to express the ways that church leaders have abused their power and victimized untold numbers of children, youth, and adults. In other words we are surrounded by victim-survivors who need trauma-informed care. And we are living in systems that need to be changed so as to reduce harm.  
We all have work to do.
In 2021, Ruth Everhart and I offered a four-week course online for church leaders. We really enjoyed collaborating! And we each really wanted to make space for ministers and lay leaders to take the problems of #MeToo and #ChurchToo seriously. Drawing on our own ministry experience and biblical, theological, and practical resources from a wide variety of sources, we assembled  the workshop. The sessions were both powerful and useful.
We decided it was time to offer it again.
Registration for the #MeTooReckoning Workshop NOW Available
The course is now available to you in a SELF-PACED format. You will have access to five videos, nearly 20 handouts, weekly activities and practical ways to equip yourself and your congregation.
You can start your #MeTooReckoning Workshop today! We also are making available a student edition, an international edition (no book), and a bonus content edition of the course. You will receive Ruth's book #MeToo Reckoning, and a 15% discount on Eileen's book Pastoral Imagination as a bonus. Still have questions? Fill out the form below and we will do our best to respond!
Appreciations for the #MeTooReckoning Workshop
"Thanks for putting this together and your always excellent contributions!" ~Rev. H
"I appreciated the workshop, and am enjoying the handouts for each session. I especially love Ruth's book." ~Pastor M