The following pandemic reflections offer a glimpse into what is coming in the #PandemicPastoring Report. Have you signed up for the Webinar yet? 
++++++++++++++
As I am heading out the door this morning, I decide, standing at my jewelry dish to grab my dragonfly pin. I pin it to my white shirt. Something I've done rarely in the last 2+ years. I wear jewelry less and less, and during the pandemic I often go days without putting on any of it, except my watch. I need help keeping time in this season when all the other usual markers are blurred.
Back to the dragonfly.
It is mostly silver in tone (not the precious metal). And cloisonné in shades of blue and green cover the wings. It represents another time in my life, but more importantly to me, the dragonfly is a symbol of illumination, clarity, and insight. It has a way of showing up at times when I need more of that in my life.
A couple of hours later, when I step down the jet bridge to board my plane, I notice that my dragonfly pin is missing. My heart sinks. I start feeling around my bags and clothing to see if it is caught somewhere. Then I try to call lost and found. And I text my family. But then it is time to fly…
Dragonflies in the Wild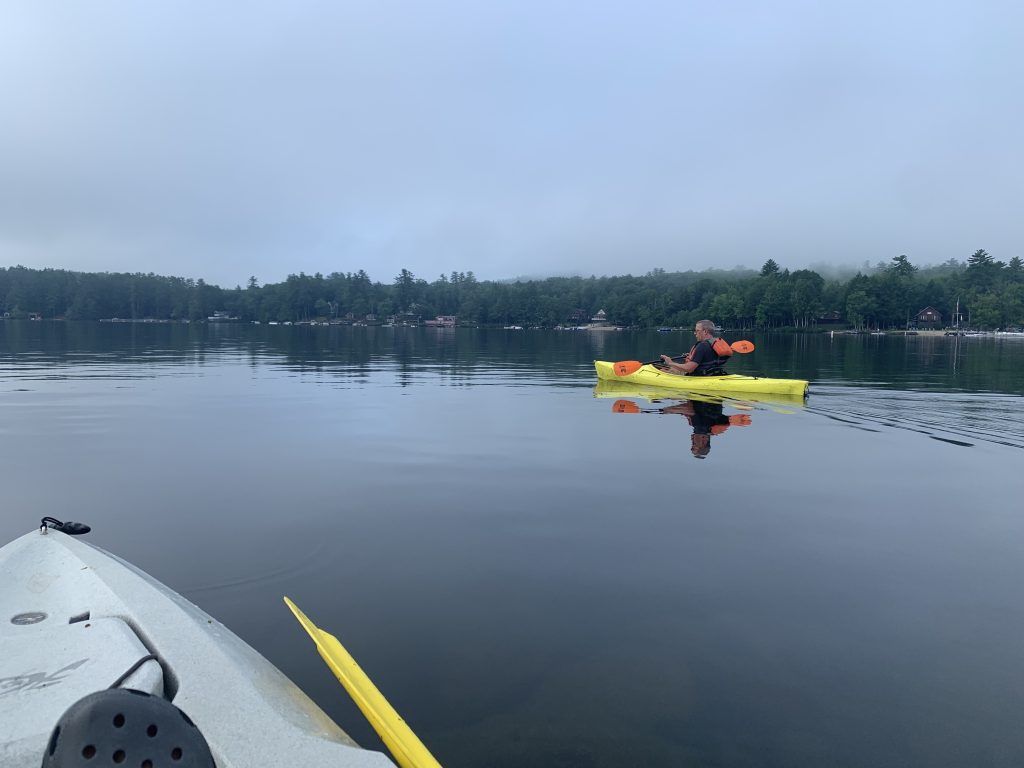 A week ago, I was paddling a kayak on the still morning waters of a lake on Wabanaki Confederacy (1606) lands, the home of Indigenous Peoples in the Maliseet, Passamaquoddy, M'kMaq and Penobscot nations.
Or to be clear (speaking of clarity) I was peddling a kayak with my feet. My spouse Lynn was paddling a rented kayak the more traditional way. I had the easier job peddling his craft out of the cove for a little morning adventure and exercise.
We were camping next to Long Lake near Naples, Maine (settled 1774, incorporated 1834). Extra-large dragonflies were out on the water with us, landing on the front of my boat and then on my shirt. Taking off just as quickly.
This season of deep summer brings out the dragonflies. They skitter and fly, bob and land. Then lift off almost instantly. Being out on the water makes sighting them a little easier. I learned about the symbolism of dragonflies years ago from Grandmother Terri, an Indigenous elder who traveled in the late spring to teach at Springbank in South Carolina. She and Sister Trina McCormick, OP taught "Native American spirituality" and watercolor each May for many years.
They taught me about Sun Bear's vision of a medicine wheel. Many variations of the wheel appear in many Indigenous cultures and landscapes. The trio of hummingbird, owl, and dragonfly (or sometimes firefly) are the bearers of clarity, insight/wisdom, and illumination.
I could use a healthy dose of all of that right now. How about you?
Elusive Illumination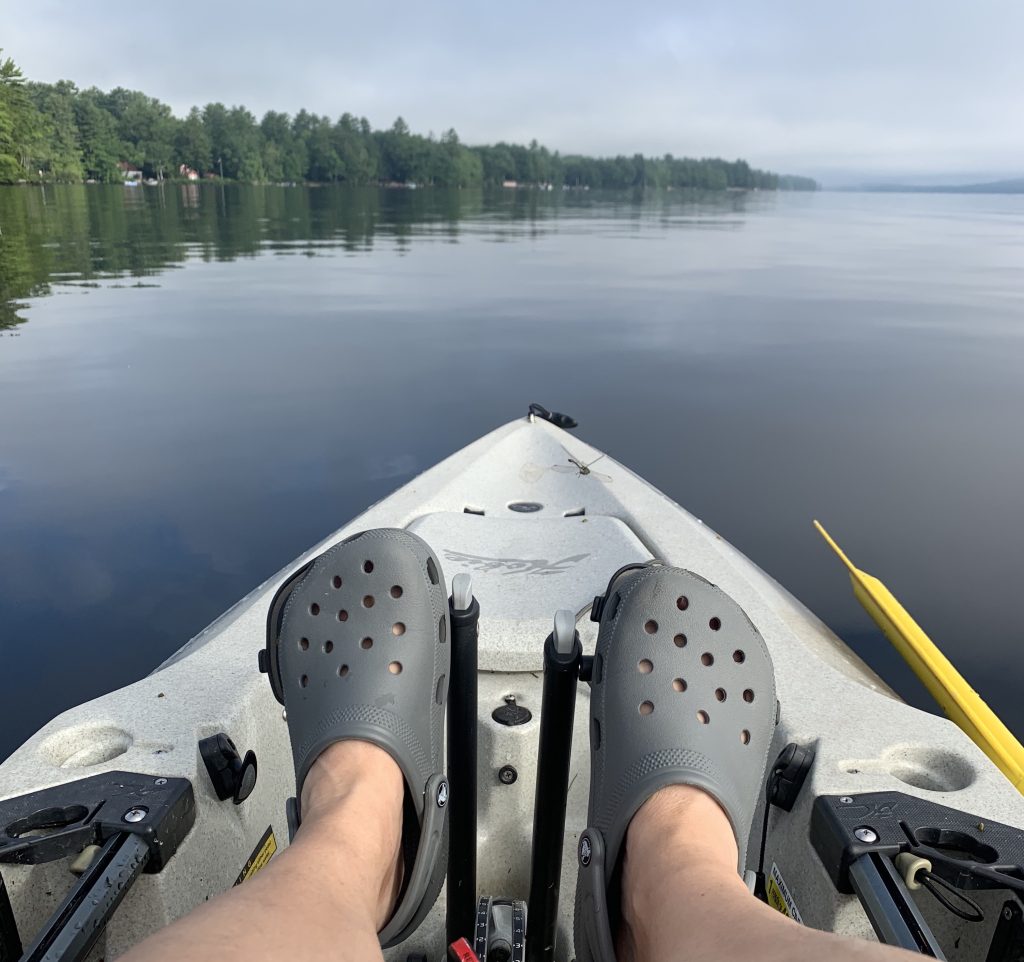 Clarity and insight can be elusive. Illumination, like the dragonfly, can land for a moment. We behold the splendor. Then off it goes again zooming across the water. Only to appear again momentarily. If we want to hold on to its gifts, we need time to focus and reflect.
Insights from the last 2+ years of living through the long season of pandemic are like the dragonfly. They appear and quickly skitter away. Illumination about what we all experienced? Clarity on what individuals and particular communities felt? They each appear in a flash of wings. Then zoom away over the vast landscape or disappear into the clutter of everyday life.
We need to focus and reflect to see what needs to be seen and to retain illumination and insight from this season.
Research as Attention
One of the gifts of qualitative research is honing the skill of paying attention. Over the last two years many pastors and lay leaders were the subjects of my careful focus. Among other things, they told me how they and their congregations attempted to embrace the lock-down season as a time of reflection. They asked themselves about the purpose and the vision of church. What do we need to be doing? What should we let go? What is God calling us to be and do? And what is just accumulated busyness? How do we become the church in and for these times?
Holding on to insights and clarity born of such questions is not easy.
And the multiple pandemics illuminated by these last 2+ years go far beyond the Covid-19 crisis.
Insights about ending racialized violence and death? They remain elusive to many white churches. Wisdom about how to combat the gender inequities of work and family labor? Rare as dragonfly teeth. Clarity about how to repair the healthcare disparities and layers of brokenness? Feels overwhelming and impossible. Illumination for halting climate crisis? Only flashes of insight. Vision and purpose for the church in these multiple pandemics? Fleeting.
Time for careful reflections
In spite of the fleeting character of genuine insight and wisdom, the power to learn and change remains within our grasp. Hope for healing and room for redemption? Simple adjustments or sweeping reforms? All are still possible. Humans in partnership with the divine remain capable of making the course corrections we need individually and collectively.
But to do this, to participate in God's healing and redemption, we must pause, reflect, and seek understanding, illumination, and insight. Only with a commitment to careful attention to the world around us, and our place in it, will we gain a heart of wisdom.
Before we even think about solutions, we need sustained attention and focus. We need time for pandemic reflections.
What does such possibility for learning and change mean for the church? And what exactly still needs to be learned from the last 2+ years? What really did happen to us? To our leaders, to our bodies? Ways of being together? Our souls?
Illuminations in the #PandemicPastoring Report
Having spent considerable attention and pandemic reflections on how pastors and church leaders are doing over the last two years, I am eager to share with you what I've learned. Some insights are fleeting indeed, like the moment a dragonfly hovers in one's vision.
Other illuminations are far easier to grasp, yet more difficult to remedy. In this vein, a significant finding of the #PandemicPastoring Report is that grief and loss come in every shape and form. No simple closure from what we have lost is going to save the day. And learning to live creatively with ambiguous loss is critical for any shared way forward.
The multiple pandemics continue to be awash in losses. Small as a dragonfly pin. Significant as missed trips, graduations, or first birthday parties. As routine as school, office meetings, and weekly worship followed by lunch with friends. And also as enormous as a life. As monumental as more than a million lives lost in the US alone.
Illuminating Loss and Grief
Waking up the morning after I lost my dragonfly pin, I sense some clarity. I'm usually good at finding lost things, and I have a certain kind of patience for seeking and recovering them. But that in itself takes a lot of energy and focus. Instead I am taking a different approach.
I decide to let the pin go . . . with a prayer.
May whoever finds it, wonder about its story, allow it to bring them joy, or to illuminate some moment on their path through life. Perhaps they will even experience the grace of what it is to find a small, free gift from the universe.
I'm still sad, and I'll miss its physical presence, yet my heart lifts a little with this decision.
Choosing spiritual detachment and release with a prayer is liberating for me.
Each loss is unique in what it will require of us to live with it creatively. Yet that is a piece of our spiritual work in this season – personally and collectively.
Would you like to learn more about what pastors and church leaders have experienced in this season?
I invite you to join me for a conversation on September 1. In the webinar, we will talk about a host of other insights in the #PandemicPastoring Report. Please join me.