Editor's Note:  Today we welcome Rev. Jake Hall as our guest! Jake lives in Macon, GA with his wife Erin and their children. He is the Director of Initiatives in Faith and Culture at Mercer University's Eula Mae and John Baugh Center for Baptist Leadership. He also hosts the radio show, Gospel Gothic on Sunday mornings, finding the sacred in good music and good coffee.
How to Survive An Apocalypse? Turn up the Music
I remember the feeling of collective surprise at the beginning of the pandemic – that life would be so disrupted for "a few weeks" seemed impossible. It took our collective breath away. But not our songs.
Those quiet days held silent choir lofts, too many unmuted zoom experiences, and too few of the three dimensional connections we needed. It was the beginning of our long, muted Lent. For some of us, it was the end of ministry as we knew it.
I'm looking forward to The Pandemic Pastoring Report. Pretty sure it resonates with how we learned to worship while staying apart. I had no idea just how much we were coming undone.
Music for the New Normal
Pastoral ministry for the past twenty years was beautiful and hard. For many of us, budgets, buildings, and nurseries no longer expanded year by year. Anxiety set into our shared life. Political rhetoric had already leveraged the fault lines between the pulpit and pews in most congregations. Then came the pandemic.
What playlist could give voice to this new normal? I didn't find it in the Baptist Hymnal.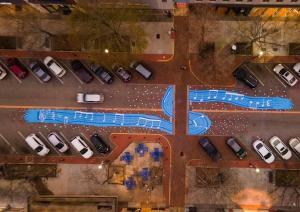 My context provided a rich soundtrack to express and ease the pain of pandemic pastoring. For the past nine years, Macon, Georgia has been my parish and its artistic imagination is shaped by deep history of soul, rock, blues, and country artists. This is the city touched by James Brown, put on the map by Otis Redding, given a pulse by artists like the Allman Brothers and Little Richard Penniman. For me, it was this music and its larger genre of Americana that expressed the real pain, panic, and pressure of pastoring.
Playlists As A Practice
Forming playlists became devotional for me. I had begun a radio show on 100.9 The Creek in 2016, as a creative practice and a ministry. Gospel Gothic, "music and meaning in the Christ-haunted South," is a Flannery O'Conner inspired synthesis of theology, questions, and Americana music. The listeners are both regular church-goers and those who claim they won't go near a church building. After March 2020, I found great solace in artists whose work embodied what my friends in ministry began to call #pandemicpastoring.
In those days, Townes Van Zandt's "Lungs" embodied those moments for me. It echoed the struggle for breath by those who had with COVID-19, as well as a growing congregational struggle.
Won't you lend your lungs to me? Mine are collapsing . 
Plant my feet and bitterly breathe, up the time that's passing
Breath I'll take and breath I'll give, And pray the day's not poison 
Van Zandt's pining for breath sang what many ministers experienced: a struggle to preach and be heard, the impossibility of worshiping in a recognizable way, and the growing isolation of digital spaces. Pastors know the feeling of protecting the congregation through Covid-safe policies, yet grieving the loss of rituals and preaching to the unflinching eye of a web cam.
Songs That Resonate
Two years later. We are still enduring a pandemic. And I am not a pastor. I can count dozens of colleagues who say the same. Great resignation, maybe. Great revealing, surely. No two stories are exactly alike, but themes tell us: Pandemic pastoring was truly apocalyptic – which means, it was revealing.
After the experience my family and I have had in church, the songs that resonate are different. I cannot sing "We are One in the Bond of Love" when those bonds were shattered.
Music that names the truth? Turn that up. LeeAnn Womack's "All the Trouble" for the long-suffering lament we need. The Wood Brother's "A Little Bit Broken" is like a psalm for these days – "every beat up heart's got more soul and everybody is a little bit broken."
This music is not what some would call holy, but it is decidedly sacred.
Hope amid Brokenness
We need the voices that sing the moral arc, unafraid to name how injustices ruin and refusing to sanitize the messy work of redemption. I find myself singing wholeheartedly with Americana songs that point to hope while naming the poverty, frailty, and brokenness of humanity. Songs point to the treasure to be discovered, not merely the tragedy of loss.
I offer these playlists every Sunday morning, just not always from a pulpit. Every time I hear Jeremy Albino's "Shipwreck" I think of the current state of the Church. The song entones the story of a long forgotten sailing ship that is lost at sea. The perspective of the ship's voice sings to me:
I'm a wreck, I'm a lonesome wreck, Lonely is all you can be, A thousand leagues under the sea, You're never gonna find me
Many pastors I know have had moments of clinging to their pulpit and even their sense of calling by a thread. But the song goes on:
It's not the gold in my belly, that's holding me down, the water that i'm under weighs a million pounds
Somewhere in the deep, all is not lost.
The weight of leadership throughout the pandemic may be crushing, yet the treasure remains. It has not been lost forever. It waits to be rediscovered like a treasure waiting at sea. A friend reminded me that only through the discordant notes of suffering do we rediscover what has been lost. Maybe it sounds like the call to good news tellers in "Tulsa's Last Magician" – "we need you."
May we rediscover the hope we hear in 2 Corinthians: "We have this treasure in clay jars." The treasure, and the songs, are still there.
+++++++++
How are you surviving the apocalypse? What music are you turning up? What would you add to a playlist for Pandemic Pastoring?