LOn Sunday afternoon I hosted a conversation on Zoom with friends from my childhood church. Together we were remembering one of our friends, a fellow youth group member, who died earlier this summer. It was good to be with each other, to tell a few stories, and to honor our friend's life.
Right now as the realities of the pandemic keep extending, this kind of gathering, remembering and honoring continues to challenge us. On the other hand, closing the distance across time zones and geography is possible in new and more accessible ways.
Going through my picture albums from youth choir and summer mission trips, reminded me just how formative and important these young people were to my life. None of us are young any longer. However, their significance remains rooted and grounded in my being. It was a gift to have a chance to say something like that to them today. One of the important rituals of grief is to tell stories. And stories connect us to each other over time and space and circumstance.
Grief Rituals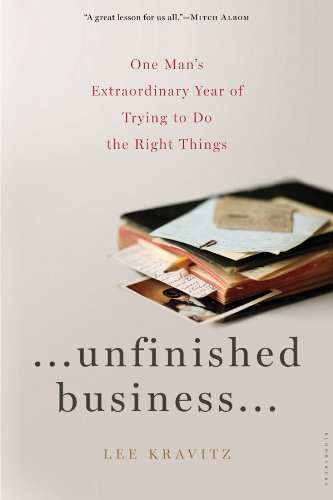 This week's episode of Three Minute Ministry Mentor is about grief rituals. In the spring of this year I interviewed Lee Kravitz about his exploration, experience, and writing about death and grief. I think you will find the stories and rituals that Lee shares to be inspiring and beautiful. Lee is a journalist and a former editor-in-chief at Parade Magazine. And he is also author of the memoirs, Unfinished Business: One Man's Extraordinary Year of Trying to Do the Right Things* and Pilgrim: Risking the Life I Have to Find the Faith I Seek.
In our conversation Lee talks about his life-long journey to understand death and grief and his participation in his synagogue's Chevra Kadisha, or holy burial society. We also talk about his memoir, Unfinished Business.
Lee grew up in Cleveland, Ohio. His childhood, in the shadow of the Holocaust and several family tragedies, made him hyper-aware of how poorly most of his loved ones dealt with death and dying. Later as a young journalist reporting in Asia and the Middle East, he felt compelled to explore and photograph different cultures' death rituals.
In his thirties and forties, Lee threw himself into his work as an editor. When he was fired from Parade, at age 54, he realized how much he had neglected his emotional and spiritual life during his work-obsessed career. He went on ten journeys of self-healing and spiritual growth — the topic of Unfinished Business.
In recent years Lee Kravitz has reconnected with this Jewish identity and roots. In particular he has joined the holy burial society known as Chevra Kadisha. Members of the society provide loving care to one who dies and to their family. How? By protecting and staying close to the body of the deceased person in the time between death and burial. They also comfort the grieving family by delivering a profound level of compassion and care not only to the deceased, but also to their loved ones. Thus, members of the Chevera Kadisha provide the following services:
 Members of the Chevera Kadisha watch over the diseased, or "met," from death to burial. The group considers this work to be "midwifing the soul." Often the singing of Psalms accompanies this transition. Lee Kravitz describes his preference for sitting outside the refrigerated room where the body rests, in the basement of the funeral home. Shomrim read from the Psalms and other inspirational literature as they sit. Lee says he particularly likes to be a shomer between the hours of midnight and dawn, when the rest of the city is asleep. Chevra Kadishas were historically Orthodox. During the last few decades, a growing number of people in other branches of Judaism have started Chevra Kadishas in their communities
 The tahara is the ritual work of purification and cleansing.  Men wash and dress men. Women do the same for women. The tahara team offers prayers and psalms while giving loving attention to the body of the deceased. Even before starting, members pray a prayer of forgiveness for any small thing that might go wrong. Lee reminds us that this is very delicate and hard work to maneuver the body with care. When the cleansing is complete, they dress the body in a cotton or linen shroud. Everyone is wrapped in the same simple garment. The body is placed in a plain pine box — increasingly, in some communities, for green burial.
+++++++
Lee reminds us that tahara (purification and cleansing) is the greatest mitzvot (commandment) in Judaism because it is done anonymously — and because the members of the Chevra Kadisha can get nothing in return from the met. It is giving without anything in return. However, he stresses, you get a great deal from the experience: "It gives you an opportunity to come face to face with death .  .  .  and to demystify the process of your own eventual dying."
Jewish Grief Rituals during Covid
When Covid-19 outbreaks began, our rituals around grief changed dramatically. The practice of Chevra Kadisha virtually halted. Such close contact with the deceased, especially those who died from coronavirus, was ruled unsafe by the CDC. This leaves many unresolved problems. 
The BIG questions for Lee Kravitz include first: "How do you serve others in a time like this: the family and the dying person?" And also: "How do you prepare yourself to be of service? How do you deal with your own emotional fears, anxieties, sadness and grief… Self-care is involved, if you are going to be a good caretaker."*
After years of childhood curiosity, journalistic pursuits as a young adult and more recent personal explorations, Lee is able to say with clarity: "Death is not a casual thing. Death gives urgency and meaning to life. It connects us to our ancestors and to future generations. "
Having studied death and grief rituals in many global cultures, @lee_kravitz say this from years of observation.
How is the reality of death giving urgency to your life? pic.twitter.com/Mqm4mgQvd6

— Three Minute Ministry Mentor (@3MinuteMin) August 10, 2020
He goes on to say, "One way we spiritually grow and contribute is by helping people through this pivotal time and liminal time which allows a deeper spiritual experience than we often get day by day."
Questions by which to Live 
I asked Lee two questions to close our interview:
+ How are you living differently because of what you have learned?
+ How are you thinking differently about your morality during this time?
Listen – on our 3MMM podcast – or watch this episode and see what Lee Kravitz has to say in response to these questions. He shares with us how a lifetime of exploring funeral rituals and living through these months of Covid-19 is changing they ways he responds to these questions. Then I urge you to take time and think about these questions for yourself.
++++++++
*Self-care is essential — for work and life and coping with our grief. We are encouraging our community of 3MMM followers to take seriously the need for rest, sabbath, and self-care. In next week's Summer Self-Care Giveaway drawing, we will include a copy of Unfinished Business for the winner.
Special thanks to Union Theological Seminary for their support.