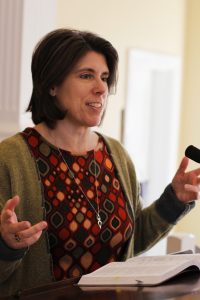 Since 2004 my teaching remains focused on seminary and divinity school students preparing for ministry and higher education. My other academic teaching includes work with doctoral students, undergraduates, and incarcerated students earning college credit. Currently I am a pedagogy consultant with Union Theological Seminary. And I have also supervised masters' theses, coached and supported dissertation writers, contributed to case conferences for Clinical Pastoral Education students and residents, and I worked as a master teaching fellow at Vanderbilt University's Center for Teaching.
Schools and Institutions 
Union Theological Seminary | New York City, New York
Central Baptist Theological Seminary | Nashville, Tennessee
St. John's University School of Theology | Collegeville, Minnesota
Dale Andrews Freedom Seminary | Alex Haley Farm in Clinton, Tennessee
Luther Seminary | St. Paul, Minnesota
The Higher Education Initiative with Nashville State Community College, teaching at a medium security state prison for men | Nashville, Tennessee
Baptist Seminary of Kentucky | Georgetown, Kentucky
Fordham University, Graduate School of Religion | New York City, New York
American Baptist College | Nashville, Tennessee
Vanderbilt University Divinity School | Nashville, Tennessee
Selected Courses
Introduction to Pastoral & Spiritual Care
Death, Dying and Bereavement
Trauma Informed Pastoral & Spiritual Care
Interpersonal Skills for Ministry
Internship I, II and III
Theological Foundations of Pastoral Care
Prayer and Pastoral Care
Pastoral Ethnography
Ministry with Women
American Religious History
Psychology and Religion/Spirituality
Counseling Ministries of the Church
Writing for Effect
Life and Teachings of Jesus Christ
World Religions
Cross-Disciplinarity in Pastoral Care and Practical Theology
To talk with me about teaching at your institution, contact me.
For more about small and large group retreats, teaching and preaching visit here.