Last week, on the heels of a summer with everyone in my family off on their own adventures, I met up with my husband, Lynn, in New York City. We enjoyed walking through the city streets and parks, riding the subway, buses and trains, attending Hamilton on Broadway, and seeing Hamilton Grange, Alexander and Eliza's country home. And took in public art like the "Harriet Tubman Memorial" by Alison Saar in Harlem and "The American Manifest" by Charles Gaines in Times Square. We also attended two professional baseball games (plenty of change-ups, sliders, and fast pitches), and enjoyed street food, favorite restaurants for carry out (Wu & Nussbaum) and nostalgic places (Tavern on the Green). We also got a lot of work done while hanging out on the very quiet campus of Union Theological Seminary. All in all it was a good way to celebrate 33 years of partnership with one of the things we do best together: travel.
Change-Up
On Saturday we changed things up.
Within just eight hours I went from standing on a city street buying an egg and cheese croissant in Harlem to standing in the woods of Maine collecting our gear, ready for a week of camping. A train and truck got us there. Along the way we dropped the last two pieces of mail – into a USPS box on Yale's campus – to our daughter who has been on her own adventure all summer.
In the next two hours we set up camp, racing ahead of a line of thunder showers. The only Hamilton we saw was on the $10 bills we used to pay for dinner from a food truck which was not cheap, and mostly disappointing. The only baseball was on the radio. No city lights or sounds. Only a few frogs and crickets lulled us to sleep in our tent. This morning's kayak ride gave us loons and mallards, water striders and giant dragonflies. This afternoon's lunch made up for last night's disappointing dinner with some of the very best seafood anywhere. This afternoon two thunderstorms rolled through, but my partner of 33 years has excellent camping skills. We remain dry.
Change-ups, even when dramatic, are often a good part of life. In my story they are also a part of privilege.
But not all change-ups are good. And sometimes privilege softens the blow. And sometimes it is of little help.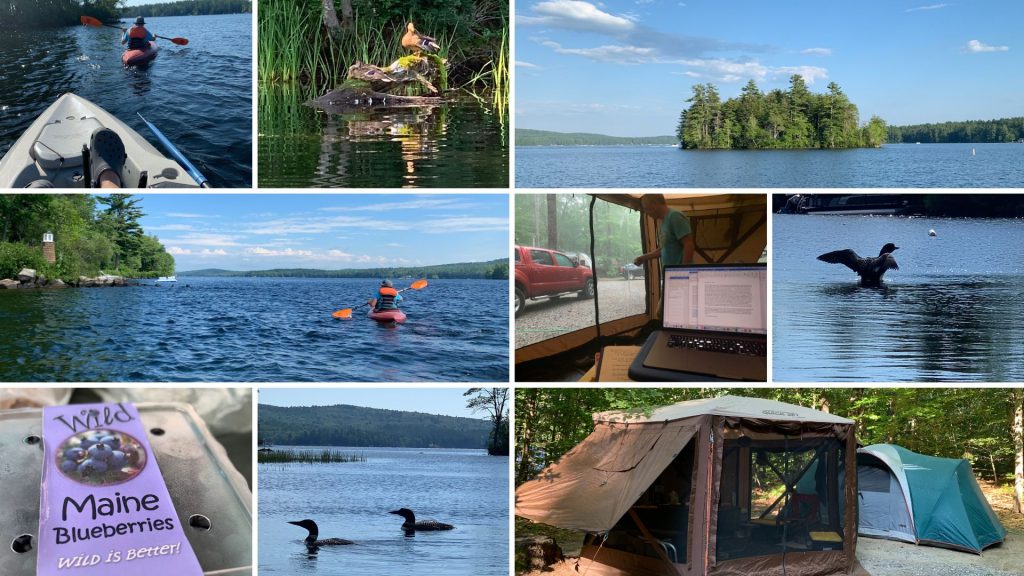 Dramatic Changes
In the past year, I made two dramatic changes to my work life. One was planned and one ended with an abruptness I did not see coming. In March it was time to end my work as an academic writing coach. I have been working for the same company for nine years, coaching professors in a variety of disciplines.** Many of them achieved tenure while I was working with them. It was joyful work most all of the time, and it gave me accountability to writers who also spent time working on academic projects, articles, and books.
I wrote a long letter of thanks and farewell, recounting some of the challenges we had weathered together. Administrators of the group, however, did not appreciate my approach, and rather than allow me to say my goodbyes and make a thoughtful ending and transition, they locked me out of the club the next morning.
To say I was shocked is an understatement.
I thought it was a simple mistake with the log-in. I wrote from my gmail address to inquire. "Did you mean to lock me out entirely?" To this day I have no answer from anyone who runs the writing club. I was dismayed and bewildered by their actions. My group members, whom I had coached for many years, were outraged. By the end of the four weeks when I could have said many good-byes and thanks and left them in the hands of a new coach, instead they all ended their memberships in the club. Poor and small-minded leadership left a trail of unnecessary harms.
Some change-ups are unnecessarily harsh, silencing, and grievous for no apparent reason.
Pandemic Changes
March of 2020 brought on a change-up that none of us were prepared for. A few experts relayed warnings in the decades before it happened. But they received almost no public attention. That is, until the novel coronavirus started making the news in early 2020.
Churches, schools, hospitals, government agencies. None of them were prepared. Individuals and families the globe over were certainly unprepared.
Shock. Silence. Fear. Loss. Grief. Felt around the globe.
What ensued left all of us with what one pastor I interviewed last year called "the disruption of everything." If you're reading this, then you lived through it. And I don't need to re-count all the details to you. However, I cannot recount this time without also acknowledging the multiple pandemics that shaped this long season. The way that the Covid-19 global pandemic revealed the older and deeper racialized and gendered disparities needs to remain central in our analysis and understanding. The inequalities of loss of life and healthcare and financial stability are significant aspects of our collective story. Every church and faith community needs to consider how these realities will shape their vision and mission going forward.
Likely the change-up to your own life was dramatic. Some of it sudden and other parts you had time to anticipate. All the loss and the grief, undeniably real. It has been stunning to me, but some people simply want to move on with no thought for what happened.
Yet assessing what has happened in the 30 months since March 2020 remains our work. And in a culture that prefers to forget the past, and stay forward facing, I believe it is crucial to pause and take stock of what we have experienced. Grief remains unprocessed. Lasting changes to our lives and faith communities need our sustained attention.
Pastoral Change-Ups
With all of this in mind, I will be releasing the #PandemicPastoring Report on September 1, 2022. In collaboration with Good Faith Media we are hosting a webinar where I will present the report, and we will hear several first-hand accounts of what it was like to lead a congregation through this time of change-up and challenge. We will hear about surprises and grace from the time of the lockdown, as well as isolation, grief, and disconnection that emerged in this long season.
I want to invite you personally to join me for this presentation and to read and reflect on the report.

REGISTER FOR THE WEBINAR HERE:
3mmm.us/PandemicPastoringWebinar
SIGN UP TO BE NOTIFIED ABOUT THE REPORT:
3mmm.us/PandemicPastoringSignUp
Some of what we have learned in this season is to move through the world with more care. In spite of visiting large stadiums for ball games and sitting in theaters for three hours, and riding crowded subways, our vaccines and our masks seem to have served us well. (The latest variants are very contagious, and we respect their power to spread and do harm.) This afternoon we took Covid tests so that we might see our daughter at her camp tomorrow. We passed. And we are relieved. The two negative tests do not take away all that has changed. We all still have so much to do to cope with the change-ups to our lives.
---
**I still coach writers. You can join me at the Writing Table most weekdays by signing up here.