You are invited to join me at the Writing Table. The weekdays change with the seasons, so sign up to get a weekly Sunday night (Monday morning) email. 
Times: 9:00am ET // 8:00am CT // 7:00am MT // 6:00am PT
Days: Mondays, Tuesdays, Thursdays through January 21, 2022
In these pandemic days, the changing times have put a lot of stress on our writing (here is how one of my favorite writers has navigated it). So to help combat the isolation, and build writing habits, I set  and host a Writing Table – join us! We will help you to get your writing done!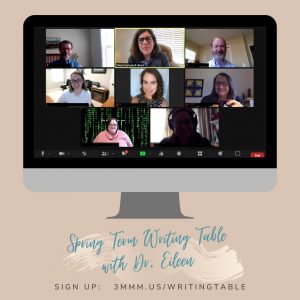 Everyone who joins the Zoom call will simply write together as a collective. If you are interested in joining the Writing Table please fill out the form below. If you are not already a subscriber to Three Minute Ministry Mentor, you will be added to the Writing Table list. In order to get the Writing Table emails each week, you will need to stay subscribed. Of course you're always welcome to change your preferences at any time!
Warmly,
Dr. Eileen
PS – are you looking for more than daily writing table sessions? Maybe you are seeking a writing coach to help you organize your projects or provide you with valuable feedback? If that is you, please visit this page and tell me what you need. I have a few coaching spots open for 2022. You could be in one of them!
---
Signup Form
Please be sure to select the writing group.