You are invited to join me at the Writing Table. The weekdays change with the seasons, so sign up below to get a weekly Sunday night (Monday morning) email. 
Times: 9:00am ET // 8:00am CT // 7:00am MT // 6:00am PT
Days: Most Weekdays, Occasional Saturdays
In these pandemic days, the changing times have put a lot of stress on our writing (here is how one of my favorite writers has navigated it). So to help combat the isolation, and build writing habits, I set  and host a virtual Writing Table – join us! We will help you to get your writing done!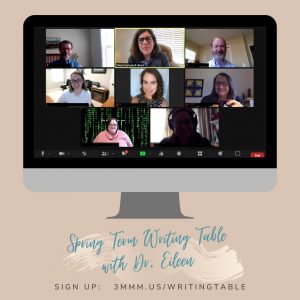 Everyone who joins the Zoom call will simply write together as a collective. If you are interested in joining the Writing Table please fill out the form below. If you are not already a subscriber to Three Minute Ministry Mentor, you will be added to the Writing Table list. In order to get the Writing Table emails each week, you will need to stay subscribed. Of course you're always welcome to change your preferences at any time!
Warmly,
Dr. Eileen
PS – are you looking for more than daily writing table sessions? Maybe you are seeking a writing coach to help you organize your projects or provide you with valuable feedback? If that is you, please visit this page and tell me what you need. I have a few coaching spots open for 2022. You could be in one of them!
---
Signup Form
Please be sure to select the writing group.
New Coaching and Writing Table Options in 2023
Starting in March 2020, I began offering an occasional, sometimes weekly, Writing Table for students, ministers, and professors. Lots of people needed to write during those early days of the pandemic, and yet everything was so exhausting and distracting. Despite being sheltered at home, we needed accountability and support to get our writing done. The Writing Table helped me complete my book Pastoral Imagination and now 2 ½ years later many other authors have completed books and many other projects including:
Books and book chapters
Sermons
Blogs
Business articles
Poetry
Academic journal articles
Dissertations
Presentations
Proposals
Reports
All the mutual support, and building the sturdy and lasting habits of writing, have been offered through Three Minute Ministry Mentor (3MMM) at no charge. Can you imagine that? It has all been free.
Why did I do that?
Well, honestly it helped me. And we were living through multiple pandemics! So the Writing Table became a practical and concrete way I could support friends, colleagues, and students. And eventually even dozens of people I didn't know. People who became new friends.
Most weeks (2021-22) I gave between three and five hours of my time to host a Zoom space for the Writing Table. I offer brief and simple coaching around building a writing habit and helping writers inspire each other with strategies for writing. It has been a joy. And now it is also time for me to convert some of this energy into support for Three Minute Ministry Mentor.
At 3MMM we give away so much of what we do. It's our delight and joy to support ministers and pastors, professors and authors, poets and priests. And now we hope that you might share that same spirit of generosity with us.
Free-Write Fridays
Through the end of 2022, the Writing Table remains free and open. We just ask for your name and email, so you can receive the weekly link. Going into 2023, the Writing Table will not be fully open access as it is now. However, some of the Writing Table days will remain free!
Every Friday all are welcome at the Writing Table for no charge whatsoever. Give it a try, keep your habit going, invite a friend, or simply enjoy the support and energy of other writers.
If you want to join the Writing Table other days of the week, and we surely hope you do, you'll be able to do so for less than a dollar a day starting in January. New pricing and options for how to join the Writing Table are coming in November. Some of the options include receiving one-on-one coaching for your writing project. New pricing begins in January of 2023.
The Writing Table remains free (3 to 4 days a week) through December of 2022. Everyone who signs up for the Writing Table now (or is already signed up – thank you!) will have an opportunity for discounted subscription rates. Student rates will always be discounted.
More details coming soon!
++++++++
The background of the header image is an alphabet and writing by Hildegard von Bingen (complied near the time of her death). You can read more about the image and her language.