On Thursday of this week I found myself stunned by beauty twice in an hour. Let me tell you about the first of those two moments. The evening before I'd been in something of a foul mood, feeling anger and disappointment, which can take their toll on a body. But the drive and conversation between St. Paul and Collegeville, Minnesota had tempered and mellowed me. I was open in mind and heart, relaxed in body, but I was unprepared for what lay ahead.
I was greeted at St. John's Abbey and University by the same freezing temperatures and snow which blanketed most of the state. I walked over salt and snow admiring the beauty of a campus with its mixture of architectural styles. Students of all ages were rushing past me to get out of the near-zero air temperatures into buildings to turn in term papers and take final exams.
My first stop was the St. John's Bible Project display and bookstore. A smallish, dark room constitutes the museum home of the Bible Project, and it is housed in the lowest level of the campus library. Under carefully arranged lighting are a couple dozen original double-paged vellum pages from the illuminated scriptures. The art and calligraphy on each double page spread cover about 24 x 36 inches of canvas. When the full project is complete the St. John's Bible will have more than 160 illuminations. This amazing project, an ecumenical collaboration, will hand copy the entire translation of the New Revised Standard Version of the Bible. It has been more ten years in the making, and is scheduled to be complete in 2010.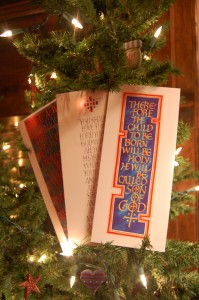 On this day I had the museum to myself. The first page that greeted me was John 1:1. "The word became flesh and lived among us." Jesus was enfleshed. He dwelled among us with tiny hairs on his earlobes, toenails that grew and needed trimming, rough patches and tender spots. Sometimes his flesh was covered in sweat and dirt, and other times must have had that luminous quality that human skin holds. His hands had the power to sense the most feather-light of touches. They also had the power of muscle and sinew, and surely were calloused by demanding and exacting work. The human body is a wonder. And Jesus inhabited one such amazing body.
Artist Donald Jackson, world-renowned calligrapher to the Queen of England is the lead artist on the St. John's Bible project. He and five other calligrapher-artists have written every word of the text by hand. Jackson has rendered the coming of God to flesh in Jesus as a beautifully gilded incarnation of the cosmic Christ. This vision is of more than a luminous human body. He captures the Word becoming flesh as a new living, breathing Word of God. In the image Hebrew words are like the creation itself breathing life into a new being. Christ, Sophia, Wisdom has come to live among us. In Jesus, yes.
And the incarnation did not begin or end in Jesus, although Christians see it most clearly in that life. The powerful wisdom of God is available to any and all who will notice that presence and say a word of welcome to the living word of God enfleshed in and around us. Incarnation is God's creative wisdom and beauty as continues to come to life. It is present in all of creation, and each person is an utterly unique and beautiful expression of God's lively work and word of flesh now appearing.
Advent. Arriving again and anew. What I had not been prepared for on Thursday was the power of seeing the word becoming flesh again in the artistic rendering of the text. What I had not been ready for was the way I felt that power and the wonder of the story in my own flesh. The incarnation was there for me to see and know all along. My preoccupations got in my way. Thanks be to God for this artistic gift which brought me to my senses.
God, who dwells among us, illuminate our hearts, minds and bodies to see the wonder of your presence incarnated all around us.
"Illuminating the Word" is an on-line exhibition  sponsored by the Library of Congress