Needle in a haystack . . . .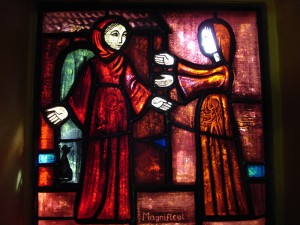 This week a group of scientists held a contest to see which teams could find and deliver the GPS coordinates for ten red weather balloons lifted about 100 feet in the air in public locations. The eight-foot balloons were mostly anchored in public parks around the U.S. The winning group from MIT found all 10 balloons in less than nine hours. How did they do it? Well the whole contest was set up to test possible uses of social networking media for quick problem solving. So through the sharing of information – and the spread of mis-information to throw other teams off the trail – the 4367 teams closed in on the locations. The winning MIT group found ten needles in a very large haystack, and they gave their prize money of $40,000 to charity.
I have not ever actually searched for a needle in a haystack. But I have looked for a contact lens dropped on the floor of a classroom. It was some years ago, and everyone in the room had to stop and help search the floor for a clear contact lens. Most everyone was just staring down and trying not to crunch the delicate lens with their feet. I got down on the floor and tilted my head until my eye was level with the ground. Then I scanned until something broke the horizon. That did it. I spotted the contact, and the owner was delighted to have her contact back.
This week I've been thinking about Mary, mother of Jesus. Unwed, teenage mother, that is. What an unlikely story. Who would have believed her? Particularly her betrothed. What a scandal.
Ten weather balloons.
One contact lens.
One very young, very pregnant girl.
Needles in a haystack, all.
Several posts ago I introduced my new favorite rock band, Switchfoot. The opening song on their latest album, "Needle in a Haystack Life" (
lyrics
,
video
) begins like this:
The world begins
With new born skin
We are right now
You're needle girl
In a haystack world
We are right now
You're breathing in
The highs and lows
We call it living
– Chorus –
In this needle and haystack life
I found miracles there in your eyes
It's no accident we're here tonight
We are once in a lifetime
Mary was the original needle in a haystack girl. But all of us have miracles in our eyes. We all live lives that will happen only once. What will we do about it? How will we live? Mobilize our networks to find the prize? Take a new angle of vision? Or go on as if nothing were new, nothing were now?
God give us the courage . . . to live as if our lives were no accident. As if you were being born right here, right now in the very midst of us.