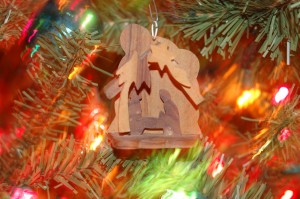 Silent Night . . .
Christmas has finally come and gone and the night is deepening around me. Silent but for the tapping of keys on my computer and the distant whine of a train whistle. A few cracks and pops say that my in-laws' house is still settling in for a long winter's nap. Family Christmas celebrations are complete. Scraps of wrapping paper litter the floor and the bare-bottom tree seems a little spent.
Christmastide, being one of the shortest seasons of the liturgical year, celebrates the revealing of God in the world, the inbreaking of a Living Word into the mundane and daily routines of our lives. But how does the season live on through the year? Or should it?
I asked on facebook recently if others sang Silent Night and lit candles on Christmas Eve. My question was met with several "yeses" loud and clear. In a conversation earlier this month a friend and I wondered aloud if anyone had ever written an ethnographic study of Protestant Christmas Eve services in the U.S.? And in how many of them would the gathered sing Silent Night and light little white candles? (There's a fun start to a dissertation for someone! )
For over a year now my three-year-old daughter has been singing Silent Night at bedtime. After a family story book each evening, her dad and I take turns with the balance of the bedtime routine: rocking, "talking about her day" and singing. Some time in Advent of 2008 I started singing Silent Night in a line- up which often includes London Bridge and Twinkle, Twinkle Little Star. Over the months that followed, without fail, she asked each evening for Silent Night. It was funny to sing a duet with her in the warming spring and then through the hot summer, and then I began to wonder if we'd keep singing it right through Advent and Christmas. We have.  She often ends it with "slee-eep in heavenly please."
In the Christmas Eve service where we visited, when it came time to sing Silent Night and light our little white candles, my daughter was pleased with herself to be able to sing every word of two verses.
This is the shaping of a practice, forming mental images and emotions bound together in memory for my daughter (and me) which shape her impressions about God and faith in a "holy infant, so tender and mild." It is not merely a sentimental experience. Our bed-time routine also gives form to powerful habits of mind and heart: singing the faith, nurturing daily an examination of one's story and life, caring through the embodiment of trust and love. Although much of it will not remain conscious, these formations will continue to exert themselves on her throughout her life.
It is not only a bed-time routine for a small tender child that my husband and I are performing. We are also helping to create the possibility of another inbreaking of a Living Word into the mundane and daily routines of our lives. We are not perfect parents. Far from it. And we're not even foolish enough to aim for perfection. Instead we are aiming for "good enough" ways to love and nurture the infant, now preschool child, in our care. So on days too full of wrapping paper, junk food, small talk or dashing one place to the next, these faithful rituals invite the season of Christmas to live on through the year. They invite our daughter to grow up singing her faith, examining her life, taking initiative in her our journey of spiritual growth, and learning that care is embodied. They also invite us as grown-up children to consider the gravity and hope in such practices.
God, we are children in need of your deep silent embrace. Rock us and hold us in your loving care.