Remember your Baptism
Tomorrow is the second Sunday in Epiphany.* Many churches will read and hear the story of Jesus' baptism.
From Luke 3:21-22: Now when all the people were baptized, and when Jesus also had been baptized and was praying, the heaven was opened, and the Holy Spirit descended upon him in bodily form like a dove. And a voice came from heaven, "You are my Son, the Beloved; with you I am well pleased."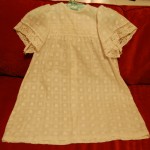 Some churches will invite worshippers to remember their own baptisms. I want to remember mine with you for a moment . . .
I was baptized on Easter Sunday, 1973. I know because the date and occasion are written in a Living Bible (very popular in the 1970s) that my parents gave me on that day. What I remember vividly is the little white dress I wore that Sunday. Because I'm sentimental, I still have it. I remember that I took one of my Dad's white handkerchiefs for the pastor to use when I was baptized. (I do NOT have the handkerchief!) I remember being cold and having to stand in a large wash tub to be dried off before putting back on my Easter dress. I remember Martha Hoffmeister shepherding me through the process.
She was one of many church members who had shaped my life of faith to that moment. What do I recall believing? I knew that I had made a choice in my very young mind and heart to follow Jesus. And it was a completely a natural outgrowth of all the love and trust that my parents and church community had provided me from birth.
I remember my baptism with fondness. I remember knowing I was a beloved daughter of God.
++++++++++++++++++++++++++++++++++
One Epiphany while I was working on the pastoral staff of a church in Georgia we planned and led a service in which we invited everyone to remember their baptisms. Several people were baptized that day in the name of God the Creator, Christ the Redeemer and the Holy Spirit. In Baptist churches baptism is full emersion event. New believers go all the way under the water and come up sputtering to new life.
In that church, like my childhood congregation, the baptistery is just above the choir loft. Following the baptisms, the minister in the pool, took a pitcher, thrown and fired by a potter in the congregation, and filled it with water from the baptistery. He handed it over the clear glass wall to me. I carried the water down to the communion table and filled two waiting bowls. We sang and we prayed.
We invited the congregation to come forward and ritualize the remembrance of their own baptisms. As each person approached, we touched the water and then touched their hands. We addressed them by name and said words that echoed the words to Jesus.
Dear Friend, remember you are a beloved child in whom God is well-pleased.
Baptismal waters shined in their eyes and flowed down their cheeks.
The living Christ was present in those moments  . . .
Not in me alone
Not in you alone
Not in the water
Or even the tears
But in the in between
Somewhere between the beliefs and practices, between you and me, between memory and hope, between going under and rising up, is the living Christ.
Dear Friend, remember your baptism, or imagine the one that you need. Know that you are a beloved child of God. Epiphany awaits you and with it manifestations of God's divine love.
* Some churches follow a calendar which observes Ordinary Time between Epiphany and Lent, while others continue to celebrate Epiphany until Ash Wednesday.