Laundry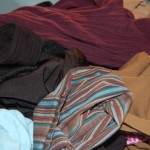 It seems like a good night to write about something mundane. And besides I'm doing laundry while I write. Multi-tasking is such an unexamined part of life for most of us. We do the laundry. Run the dishwasher. Back up the computer. All while we're taking out the trash. Or we send three emails, write a blog, pay the bills and post on facebook, all in an hour on the computer. Does this way of life really accomplish more? Or is it just a sign of an overly-busy and distracted existence, endemic to the middling classes?
I actually like to do the laundry. Sometimes. When I can do it start to finish, I like the sense of accomplishment that I can see: the pile of dirty clothes becomes a stack of clean ones put away in their places. I learn from doing the task with less interruption. Not long ago I had an insight about sorting research data while folding laundry. Somehow getting the big pieces sorted first made working through the smaller items easier. Getting the socks that are the most different in color, pattern or size paired and folded first, makes the moving through the pile increasingly easier. The lesser contrasted pairs soon become more evident when the higher contrast ones are out of the way.
Life lessons in the laundry. But to notice them takes attention.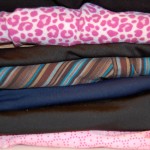 I'm trying to teach a group of students something about attention by inviting them to sit in silence and pray without words. They are finding themselves on the whole engaged, even surprised, by the way this learning is going. Our attention to our spiritual lives is shifting us as we practice.
Multi-tasking is overrated. Laundry and prayer both tell me so.
I think I'll go fold the clothes now. . . .