Embodied Practice: Three Crashes Last Week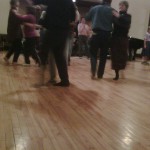 First Crash
I stood looking at my things for the Prayer and Pastoral Care class: papers, books, chime. I was missing my water and one book. My watch said I had about three minutes before it was time to start the class. Just enough time to run up to my office and back down to the classroom. I turned quickly to my left and headed for the door.
Half way there: Crash.
One of the students had reared back in his seat rather suddenly, just as I was walking briskly to the door. I felt the impact on my right side hip and arm. I staggered left to keep from falling.
"Whoa," I yelped.
"Oh. I am so sorry" the student said turning toward me.
"No worries," I said, laughing and slowing down only long enough to ask, "Are you alright?" (He did hit his head after all.)
"Yeah, I'm fine." We both laughed it off. I kept moving toward the door.
When I returned, the student asked sheepishly, "Is there some kind of a 'wrestling' prayer practice?" (I think he had WWF in mind.)
It came to me right away: "Sure. We call it the Jacob prayer."
"Of course," he said, and we both burst into laughter.
+++++++++++++++++++++++++++++++++++++++++++++++++++
Second Crash
On Saturday night I went contra dancing. At a Quaker Meeting House. With a lot of Scandinavians.
Really.
So all that irony, aside, it was a very similar-yet-different sort of embodied practice. Folk dancing, square dancing, and contra dancing are all "called" by someone who knows the dance and can guide the rest of us to follow along. Most of us on this particular Saturday night had either not ever- or had not since about fourth grade –  danced in any called partner dances.
Right hand pull, circle turn left. Swing your partner. Now do si do. Huh?
Crash. Crash. Crash.
I've never run into so many old Norwegians in such a short span of time.
Two hours of calls and crashes. We got better as we went. We laughed a lot. We mumbled apologies. The music was fabulous and so was our caller. It even looked a bit more like dancing toward the end. And despite all the crashing into one another (or maybe for a few folks, because of it!) we had a good time.
++++++++++++++++++++++++++++++++++++++++++++++++++
Third Crash
On Sunday morning I visited St. Matthew's Episcopal. It was the day of their annual meeting, and the pews filled quickly. It was also the opening of a new art exhibit, which if you're in the Twin Cities I can recommend you take time to visit in the "Undercroft."
We weren't far into the service. Processional. Opening hymn. A couple of prayers. The Collect of the Day. Then priest, Blaire Pogue announced, "Please be seated for the first reading."
Crash.
Although, I'd swear I was leaning forward as I lowered myself to the pew, somehow the man behind me managed to lean much further forward and his forehead hit the back of my head. Ouch.
I turned instinctively to see who it was and how this had happened. I got my second sheepish apology of the week. I apologized, too. We grinned and shrugged our shoulders. I sat down a bit more carefully each time after that.
+++++++++++++++++++++++++++++++++++++++++
Epiphany? Teaching, dancing, prayer: embodied practices all. Not always graceful and controlled. More than just thinking required. Thank goodness. What fun or delight could be found in just controlled thinking? Sometimes the learning, the practicing, the doing something new requires a crash and an apology on the way to grace. And something new is revealed.