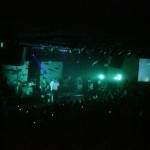 Standing here on the brink of Holy Week, I'm glad to be headed in to hear the music of Switchfoot in a live concert in Cincinnati, Ohio at The Underground.
Since early November when Switchfoot released their newest album, Hello Hurricane, I've been playing it almost daily. I was introduced to it my my friend and research partner Christian Scharen. He blogs about faith and culture and has been a Switchfoot fan for years. They were totally new for me, but I fell for them almost instantly and have blogged about them twice already in Advent (IV and VII).
I am not a well-studied music critic by any means. But I can say a couple things about what I admire and why I am attracted to in this album. The sound is incredibly clean. By that I mean the music itself whether ballad or rock anthem doesn't have any distracting junk in it. And the lyrics are accessible while not losing subtlety. In fact the lyrics are the kind that keep deepening in their meaning as I've listen over and over. There is not a single track that is not worth hearing, and my appreciation has grown for the entire album.
For instance, and most importantly to me at this moment in Lent, the music which was already powerful became even more gripping in the recent grief and loss that my community of faith has been walking through. The song "Yet" took on entirely new meaning as I have imagined the journey of grief that we are all taking, and the long marathon-like character of the road we are walking and which is changing some of us deeply. Already changing us.
Here is a link to an acoustic version of the song that lead singer, Jon Foreman, performed before the album came out.
Yet
All attempts have failed
All my heads are tails
She's got teary eyes
I've got reasons why
I'm losing ground and gaining speed
I've lost myself or most of me
I'm headed for the final precipice
But you haven't lost me yet
No you haven't lost me yet
I'll sing until my heart caves in
No you haven't lost me yet
Enjoy the links and I'll let you know how it goes.