A Decade of Practice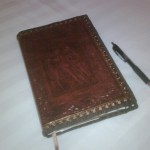 This year feels like a series of milestones in a way. Why do we think that 10 years makes a difference? Why not nine years? or 12 and 1/2? Nonetheless. It was during the last few months of 1999 when my full-time work in and for a congregation came to an end. And a new vocation, or really a revised longer-term vocation, began to take shape. I started graduate school in the fall of 2000 and began learning the practices of becoming a scholar. This is scholarship that I understand to be for the sake of the church.
As a part of that transition I began the practice of centering prayer to deepen my spiritual life alongside the practice of journaling which I had begun as a part of my first seminary class when I read Richard Foster's Celebration of Discipline and headed out into my first experience of "field education." I was an editorial assistant for Woman's Missionary Union that hot summer in Birmingham. Interesting looking back that I took up writing both as ministry and spiritual practice at the same time. That was in 1990.
A decade later, in 2000 I took up centering prayer and becoming a scholar at roughly the same time. Pausing at this moment ten years later, I feel things shifting again, but I'm not sure what the practices are that most need learning. Research and teaching to be sure. But the losses and changes in my life, and the life of my faith community, since Epiphany seem to call for more.
Learning a practice is about more than self-discipline. It has a communal character, which in a very individually-focused culture is sometimes hard to notice. Yet my learning has taken place as part and parcel of being a member of multiple communities. And now it seems part of what is changing is my role and place in my church, the academy, even my family. Maybe this is all simply a part of growing up and getting older. Or maybe it is something more. . . .