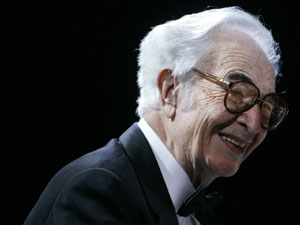 Dave Brubeck
Shining Like Gold
On Sunday night I had one of those privileges of a life time. I heard Dave Brubeck play live at the Blue Note Jazz Club in New York City. He was my second jazz crush (after Louis Armstrong) about a dozen years ago.  Brubeck, who turns 90 this year, sounded amazing, and was charming as he told a few stories. As I watched his hands move over the keys I was amazed at how he creates a kind of sound from the piano that for me pretty much defies description. Each note is clear, yet together a sound rises up that goes beyond the individual notes.
He is best known for the hit "Take Five" which was released on the Album Time Out in 1959. The unusual thing about that composition by his collaborator and alto saxophonist Paul Desmond was the beat, which was five-five instead of the more common four-four. It marked a sea change in jazz when it was released.
In a 2009 interview Dave Brubeck told Michele Norris on National Public Radio: "The more you get to play, the better it is — just play as you can while you can," Brubeck says. "I can't wait for the next job so we can play." This sounds like advice borne of many years of expert practice . And Brubeck is an undisputed expert in his field.
If you want to learn more about Brubeck, you may want to listen here:
Dave Brubeck \"In His Own Sweet Way\" NPR Jazz Profile
Some of the most beautiful gold in the world is the kind that has been worn and as a result has a patina to it. That is the kind of glow that came from the music and the man playing. Beautiful indeed.