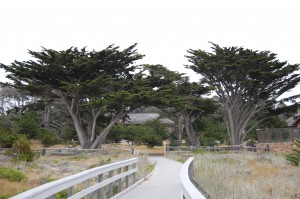 Asilomar*
While I was away from blogging a lot happened. Life has a way of carrying on, whether I write something down about it or not. Of course. (Smile.)
A few moments from the past six weeks seem worth revisiting . . .  for what I learned from them. There were some important personal discoveries, not all of which need air time on a blog. Other moments keep sending sending their messages along. So here is one.
I fell. I fell down and I can't believe I didn't break anything. Including my camera, which was fortunately secure around my neck and shoulder.
I was looking at a lovely fire pit surrounded by wooden seats – tree stumps, really – in a circle in someone's front yard. I was on my way back to Asilomar following a nice morning walk along the beach. I was returning by way of the Sunset Drive.
The next thing I knew I was falling toward the pavement. I took the brunt of it on the palms of my hands and one knee. I could hear a car coming. And I practically leaped back up from my fall. In one moment I was embarrassed, vulnerable, angry with myself and in serious physical pain.
Something I learned about myself while doing pastoral counseling and group work with women in recovery from addictions  was this: to get through my own feelings of shame and the perfectionism and anger that cover it up, I have to attend to the moment in which I'm embarrassed or hurt (emotionally or physically). Only when I can stay with the moment am I able to notice what is really happening and not leap into defense mode.
It is natural to try and defend oneself from threats of all kinds. Yet when I leap to a defense without really understanding the moment and the multiple layers of significance that it holds, I can't really assess what may be going on.
So I listened to my hands and knee as I walked slowly back to Asilomar.
As I walked along toward the Conference Center, the palms of my hands were screaming in pain. I just tied to listen to them, and not avoid what they were saying to me. As I unpacked this moment in the days and weeks that followed, a few things became clear. I need to listen more deeply to my pain. Pain of all kinds. Grief. Hurt. Physical and emotional exhaustion. Embodied stress. My body has a lot to tell me. But I don't always pay attention. So it then it yells.
I also need to listen for what healing sounds like. I need rest and refuge in the rhythms of the day, the week, the year: daily rest, weekly sabbath, regular retreat.
Part of what my body was saying to me in that moment is to rest and attend to whatever needs attention. Don't just keep pressing ahead blindly or defensively. Listen and then what is really needed may become clear. Walk slowly. Care for loss. Attend to the moment.
I'm listening. God, help me.
* The meaning of Asilomar: "Stanford University student, Helen Salisbury, who made up the word Asilomar, derived from the Spanish words 'asilo' meaning retreat or refuge, and 'mar,' meaning sea, hence 'refuge-by-the-sea.'"