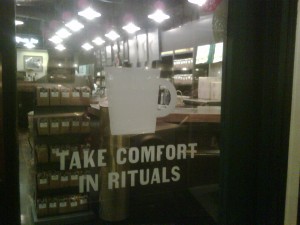 "Take Comfort in Rituals"
I am not a coffee drinker. But I'm pretty happy to smell a pot of brew perking along.
A few evenings ago I found myself standing at the threshold of many a coffee drinker's  holiest of grounds. The original Starbucks is located in Pike's Market in Seattle, Washington. However by 8 pm no one is around to partake in the daily grind, so they close up shop.
A sign on the door captured my attention even if the smell of  coffee was faint at that hour:
"Take Comfort in Rituals."
A simple message. It caused me to remember a friend's recounting to me how she got through her dissertation. Each morning she would get a cup of coffee in a certain mug. When she placed it on her desk, she recalled to me, it was her small ritual for starting to write that day.
Rituals can range in size from short to venti. The value and significance of rituals for bringing comfort is a tall order indeed. From carrying on the daily rituals of family life to weekly gatherings of worship, it is grande to find ways that deliver care and comfort to our souls.
So whatever rituals bring you and yours comfort, say a word of thanks for them today. And drink up!