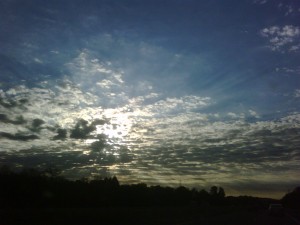 Dancing Lights of a Bright November Morning
This morning's run along the Harpeth River brought birds from out of the bushes and trees. As the last leaves skittered up the path before me, the sun was shining, and the wind alternated between a steady breeze and great gusts.
Overhead and along beside me crows complained, red-winged blackbirds swirled, a hawk circled two times, doves mourned, and other smaller birds busily prepared for colder days ahead. Somehow the morning light and the birds put me in mind of this short verse I wrote several years ago . . .
Enjoy.
brightest november morning
a rarity among gray autumn days
i sit snuggled in my car
cramming the last of a reading assignment into my head
facing the sun
i open a page
and flung across the words are seven hundred tiny dancing lights
diamonds of the morning, prisms of enchantment
i try to read, but they distract me, leaping over ideas
their source a garnet suspended just above my heart
the pattern of their dance draws me in
i sit still, bird-before-flight still
yet my heart beats and the tiny lights dance on
stirred by this beauty i forget to cram the reading into my head
and i give in to the grace of my own life pulsating
in a dance of light
11-22-02