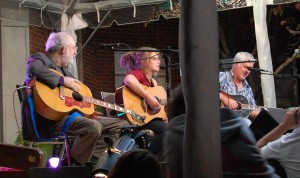 Collaboration – Part I
I love it when a plan comes together. And I love it when good ideas, people and organizations come together and make space for creative, beautiful and imaginative things to happen.
Last evening, I spent several hours sitting outside under the stars and a three-quarter  moon in perfectly gorgeous weather at Bluebird on the Mountain. The concert series featuring singer-songwriters playing original music "in the round" has become one of our favorite warm-weather events in Nashville.
Last night's show was the concluding concert of the series' eighth season. We were there for most the of events in season one, and we've returned many times since. Typically we take a picnic dinner, lawn chairs, some friends and a camera. We took our daughter when she was eleven days old. It was supposed to be the last hoorah before she arrived, but she had other plans and arrived three-and-half weeks early. So we went anyway, sans the picnic that particular night.
The three artists who were assembled for last night's show made for a slightly unusual, but really fun evening. One of the sponsors of this event is the Bluebird Cafe, known for more than a quarter of a century for showcasing Nashville's best song-writing talent. When founder Amy Kurland  got started the 100-seat room was filled regularly with songwriters creating music for the country music scene. Now songwriters of many genres appear at the Cafe and on the Mountain regularly.
The other organizational partner in Bluebird on the Mountain is the Dyer Observatory. Perched atop one of the higher hills in Davidson County, it makes for great viewing of sunsets and moon rises. Last night was even "International Observe the Moon Night." And the moon was very cooperative for this event.
Three singer-songwriters performed together for the first time last night. They are not your mama's country music songwriters. Jack Tempchin has written music for the Eagles and other pop and rock groups, and he is probably best known for Peaceful Easy Feeling. Last night he sang an interesting song called Jesus and Mohammed. Crystal Bowersox has a larger-than-life sunflower tattoo on her back, the best voice on the stage last night, and she was the runner up in the 2009 American Idol contest. She writes by her own account "alternative country."  Rivers Rutherford has written for many country groups and solo artists and plays a smokin' guitar ("so hot I thought they'd have to throw water on it" according to my hubby.)
The evening was an outstanding example of good ideas, smart talented people and stable organizations coming together for something fruitful. Mostly it was good entertainment. But when creative and collaborative moments converge, it sometimes is a sign of something more. For another post or two this week I'll spend a little time reflecting on what else good collaborations might give to us, as well as the roadblocks that sometimes prevent them.