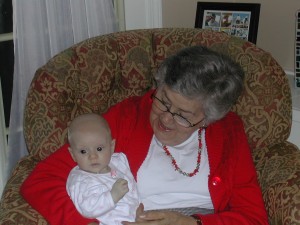 "Anyhow!"
An All Saints' Sunday Reflection*
When Nell Magee wanted to change the subject in a conversation she often said, "Anyhow!" And then she moved on to the next thing.
Nell was a friend and inspiration for me during the last eight years of her life. Long before I knew her, Nell was one of the Baptist women laying a foundation for women called to ministry who came after her. In anticipation of tomorrow's All Saints' Sunday, I want to honor Nell by sharing some of my memories and love for her.
Born in 1927 into a large and loving family with six brothers and sisters, Nell grew up to devote her adult life to campus ministry and to loving and supporting college students and student ministers. She worked in campus ministry in Texas, Illinois, and Mississippi, before she was hired in the national student ministries office at the Baptist Sunday School Board (BSSB).
Nell was an outspoken supporter of women's ordination and ministry. In 1974 she wrote about the problem of Baptist discrimination against women in The Baptist Program. It took two more editions of the publication to print the letters to the editor in response. She was stirring up controversy even before the SBC was fully in the throes of "The Controversy" that led to schism.
Nell's was not a lone voice, but part of a cadre of women in the 1970s who called for Baptists to make changes. She participated in the "Consultation on Women in Church-Related Vocations" gathering nearly 300 women and men to consider women's leadership and vocation in the SBC. The consultation took place in 1978 on the eve of big changes to the Convention, where women's role was a central issue.
During the years of battling between Baptists factions, Nell stayed on at the BSSB (later Life Way) and staunchly supported campus ministry, international students, and women, inspiring many. When she retired, Nell volunteered to lead campus ministry in New England for five more years. When she completed that assignment, Nell returned to Nashville and Glendale Baptist Church.
Nell liked to ask tough and direct questions. She read her Bible and other books avidly, interpreting what she read deftly. She was an important voice in the congregation. It was not surprising when she was elected by the church to serve on the Discernment and Search Committee (DSC) to find a new pastor. That's where Nell and I really got to know each other. We spent time together on average once a week – beyond regular church activities – in the work of that committee.
Over the twenty months we searched and discerned, the DSC often met at Nell's house. She made hospitality seem easy. Her laugh was always at the ready. She kept cashews on hand for Dave – something he could eat as a diabetic. There were comfortable seats, a clean welcoming space, and pieces of art from her travels. When we ate together, Nell got out good dishes and lit candles. She liked to say that if there was a even a couple of dollars available in the grocery budget, they should be spent on flowers. I don't think we ever met at her condo that fresh flowers didn't fill a vase or two.
When my daughter came along six years ago, Nell brought dinner to welcome baby Marissa: the best pork tenderloin with cherry sauce and roasted asparagus I ever recall eating. We sat on the porch that warm fall evening. Nell was also part of the "Tuesdays with Marissa" Club. We were pretty stressed as new parents, and we needed some respite from constant infant care. We asked friends to come stay with Marissa for a couple of hours once a week (on Tuesdays) while Lynn and I went out to eat, or to a movie, or just to walk around the grocery store and catch up with each other. Nell gladly volunteered for a turn and laughed with delight at holding our tiny baby.
When my daughter was two-and-a-half I took her to visit Nell for a final time in March of 2009. It's still on my calendar, but my daughter will not really remember the day or the woman. That day we sat on Nell's bed at the assisted living apartment where she had just moved, following a cancer diagnosis. I took fresh flowers. That day we talked and laughed and sang a little and cried a little. Just three months later we attended her memorial service at Glendale along with Nell's family and friends from near and far.
Many motivations led me to this short remembrance of Nell Magee. She was a salty saint, with a sharp tongue and a sharp wit. She never shied away from conflict, nor was she afraid to admit when she was wrong. She is the kind of person I want my daughter and the next generation of Christ followers to know and to esteem. She helped build on the foundation which supports us as we learn how to be faithful people.  She practiced leadership, hospitality, generosity and discipleship in ways that inspire me. I carry her around in my soul and call on her strengths and insights.
Nell also died as well as she lived. I missed the Sunday that she was celebrated a few weeks before her death, but it was a joyful – if bittersweet – day for the congregation. Following worship there was a gathering in the fellowship hall, and there were stories and cards and a free-flow of laughter and tears. She got to be part of celebrating her own life near its end, a rare gift. She left some of her abundance, and disciplined savings, with the church to refurbish the kitchen.
As I sat in Nell's memorial service I remember imagining, with help from one of the pastors (whom the DSC called a few years earlier), how she might have summed up things. We wondered together if she might not have surveyed the richness of her own life, and said, "Anyhow!" and moved on to the next thing. May God grant me some of that same plucky grace when that time comes for me.
______________________
* This post is part of an occasional series called "Wise Practice"