Planting Sequoias
Last week I traveled to the Northwestern U.S., land of giant sequoias and redwoods. I've been thinking about sequoias this summer, thanks to my congregation's shared "Season of Green" during Ordinary Time. The first Sunday of Pentecost we leaned in to listen to Wendell Berry's "Manifesto: The Mad Farmer Liberation Front." That got us thinking together about "practicing resurrection" and "planting sequoias."
Driving down Interstate 5, I wasn't really expecting to see any of the large red barked trees, but I also wasn't too surprised when I spotted them. I was heading south from Seattle, Washington, to Corvallis, Oregon, and along the way just outside Portland I pulled over for a stretch break in a parking lot. When I tilted my neck back I realized I was looking at three large red wood trees standing in a line. As I looked around the parking lot I saw that I was stopped on Sequoia Parkway. Of course!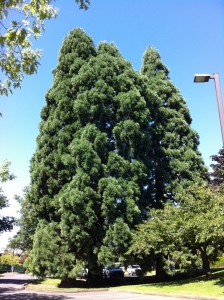 I ducked under the branches and found myself surrounded by tiny rays of sunshine coming through a thousand cracks in the tree branches. I stared up and up. Right away, I was struck by the pattern of the branches.
Straight up the side of each tree nearest the other trees, the trunk was bare of braches. Although three trees stood with only about ten or twelve feet between their trunks, almost no branches reached out to touch the others. They stood close, but didn't crowd or invade the other's space. They were mutually yielding to one another.
A few weeks ago, Stewart Clifton, a fellow Glendaler, reflected about "planting sequoias" and taught me and others that the giants grow in groves that are secured not by a single enormous tap root, but by a vast network of roots that are essentially communal in their support of one another. They don't tip or fall in the face of strong winds because they hold one another up through an underground network of support.
As I stared up at the pattern of branches, I was further inspired by the ways that sequoias can teach us to live together: close but without hindering one another's space for growing. They are supportive at the roots, and they make room for reaching up to the sun. Yet they also make room for each other. It reminds me of the closing lines in Kahil Gihbran's poem "On Marriage":
And stand together, yet not too near together.
For the pillars of the temple stand apart, 
And the oak tree and the cypress
grow not in each other's shadow.
Sequoias, members of the cypress family, do clearly grow in one another's shadow, but even they do not stand "too near together." Rather they yield space for one another to reach out and grow. Marriage is not the only long-term relationship that flourishes while holding such a posture. Faith communities can learn from the embodied wisdom of sequoias. They are slow growing and sturdy. They live together in rooted networks of nourishment and mutual support. And they yield to one another allowing both closeness and growth.
Sequoias and other redwoods live not hundreds but thousands of years. Given the fleeting character of nearly everything that occupies postmodern people, to consider planting a sequoia is a countercultural and strangely revolutionary choice. To plant a sequoia is to make a lasting commitment that endures beyond our human lives many times over.
As I stood under in the deep shadow and looked up I asked myself: In what and whom am I investing my time and energy and hope? How am I going to plant sequoias? What about you?