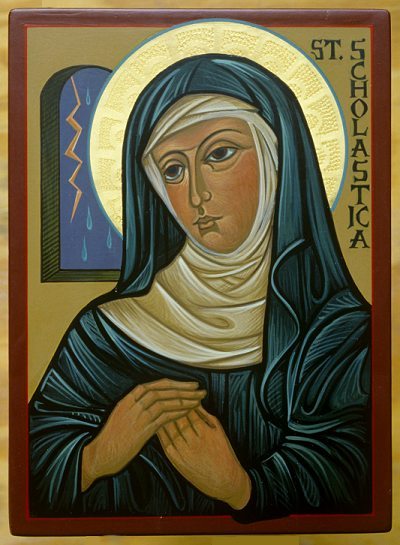 Scholastica
When I was starting out in ministry, I drove four hours every couple of months to meet up with three other women in ministry for connection and support. We laughed and cried together and told each other about our lives, ministries, doubts, and struggles. No one should have to drive four hours to find a network for connection and support! Yet isolation remains a real issue for many ministers, and particularly for women who are still a minority in nearly every Christian denomination.
To assist in overcoming the barriers of isolation and to build a network of support and creative relational learning, Scholastica is now welcoming women to a monthly peer mentoring luncheon. Scholastica offers informal connections for women in ministry across denominations and experience.
Last Friday a group of nearly 20 women gathered for networking, lunch, and deepening conversations about ministry and life. Scholastica is sponsored by Central Baptist Seminary, Scarritt-Bennett Center, and Tennessee Cooperative Baptist Fellowship. The peer mentoring program exemplifies the kind of collaborative and entrepreneurial spirit that Central Seminary's create program seeks to foster in its students. Scholastica also supports Scarritt-Bennett's mission to empower women for leadership and life. And supporting women in ministry is one of the goals of Tennessee CBF as well.
Purposes for the program include:
Peer conversation to support learning relationally over time about the practice of ministry;
Fellowship at tables grounded in the practice of the shared supper and the communion of saints;
Networking with other ministers to support and build relationships leading to more opportunities for collaboration in ministry;
Mutual support for women who are often isolated in their work of ministry.
Scholastica will meet once a month on Fridays between September and April for networking and lunch. Once each Spring and Fall semester, Scholastica will feature a speaker who will address a topic of interest for women in ministry. The first speaker will be Central Seminary President, Dr. Molly T. Marshall, on Friday, February 27, 2015. To attend, please register for lunch HERE.
Dr. Marshall will address the question: Why do we need a women's leadership initiative for ministry?
As a pioneer advocate for women in ministry, and one of the early spokespersons for women's ordination in Baptist life, Dr. Marshall will bring her considerable depth of understanding of both congregational needs and the gifts of women in response to the question. I hope you will join us for this conversation. And bring a friend!
Future Dates for Scholastica:
Friday, February 27, 2015:  Register Here
Special Guest Speaker:
Dr. Molly T. Marshall, President Central Seminary
Friday, March 20, 2015:  Register Here
Friday, April 24, 2015:  Register Here