Last week I joined ministers and seminary professors from all over the US and Canada at the bi-annual meeting of the Association of Theological Field Education (ATFE) in Asheville, North Carolina. I felt  encouraged and hopeful in the time I spent with them.
These educators have the responsibility of helping seminary students learn in practice through field education, internship, or praxis courses. At most academic meetings I attend, the discipline or topic of study takes center stage. But this week I was encouraged to witness how much these theological field educators put students at the center of their work.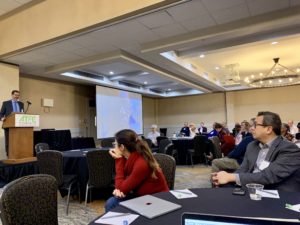 I was inspired by the passion of each field ed professional that I met to instill in students the practical wisdom required for ministry. Four visionaries living in Asheville spoke to us about how their communities bring the love of God to life in everyday practices of justice, mercy, and compassion.
The work of field education is at least as complex as the practice of ministry itself. So many aspects of seminary learning are supposed to come together in the practical hand-on courses: knowledge of bible and history, ethical decision-making, skills for leading people, theological reflection, and so on.
There is so much to learn about the practice of ministry in courses like these, that mis-steps, stumbles and even more overt failure are unavoidable. And although failures large and small are inevitable, does not mean they are the end. In fact they can be the beginning of something very important!
This week's episode of 3MMM turns our attention to how we might fail creatively on the way to learning the complex practice of ministry.
3MMM Episode 10: Failing Creatively from Eileen Campbell-Reed on Vimeo.
The resource I recommend in this week's episode comes from author and art curator Sarah Lewis. In one of my favorite books of the last five years, The Rise, she explores how failure is an essential weigh station on the path to discovery, invention, and mastery of any complex, meaningful production.
There are all sorts of generative circumstances — flops, folds, wipeouts, and hiccups — yet the dynamism it inspires is internal, personal, and often invisible… It is a cliché to say simply that we learn the most from failure. It is also not exactly true. Transformation comes from how we choose to speak about it in the context of story, whether self-stated or aloud.

~Sarah Lewis, The Rise
I hope you will take time this week to do these things: 1) thank a field education professor or supervisor who has helped you along your pathway of learning; 2) consider how to reframe the failures you've experienced as creative opportunities for growth and discovery.
Have you missed an episode of the Three Minute Ministry Mentor lately? You are invited to visit the 3MMM page and get caught up any time!
You can slo receive a weekly email reminder for new episodes, by signing up here!