Sometimes help is literally in the palm of our hands and we cannot see it.
Sometimes our ability to see or imagine or welcome the things we need in life is blocked by the kind of deeply seated beliefs and narratives that I'm calling here, blueprint stories.
When interviewing ministers over the last decade, I hear stories from some ministers that sound remarkably similar from situation to situation across the arc of their lives.
When I worked with women in addiction recovery and living in a residential treatment center, I heard beliefs they carried with them that were not adaptive. They came out in words like "I have a character flaw" and "I deserved punishment from my parents" and "things don't ever go my way."
I heard stories that seemed to repeat themselves in each new relationship, stories that blocked each woman's recovery from her addictions. And when they got clean, the volume on these stories would often crank up louder and louder.
The drugs or alcohol started as coping strategies to help some women ignore and avoid the painful blueprint stories. Eventually the coping mechanism turned into an addiction.
Addiction is not the only way people deal with blueprint stories. These stories show up and do their work in all kinds of sneaky ways. These stories have a way of infiltrating every area of our lives including our work in ministry, if that is our work.
This week I'm sharing a personal story of how one blueprint story shows up in my life. Early on in ministry it showed up when I tried to do all the things by myself. I didn't ask for the help I needed from volunteers or colleagues because I did not believe deeply that I would get the help I needed. Quite the opposite.
Many people were ready to help, but I wasn't ready to believe in them.
Sometimes people in ministry – and other professions, of course – find explicit ways to overcome the harms of negative blueprint stories in their work. I put effort into finding and nurturing relationships that reversed my belief that I would not get the help I needed.
Yet for those of us in helping professions, and this is important, our work is so deeply entangled with our relationships, and our emotional and spiritual well-being, that the blueprint stories may do their most harm around our abilities to give compassionate care to ourselves.
I'm not usually a grudge-holding person. But the day I fell in the ditch, something was shifting in me and my blueprint story asserted itself in a powerful and painful way. I was working intentionally to change my beliefs. But they are hard to change.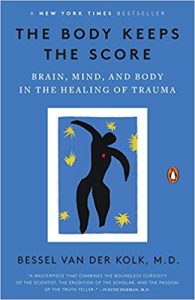 This week's resource is one of many fine books that unpack the ways humans are shaped by trauma, mental illness, and deep-seated beliefs about the world. Those blueprint stories and the deeply held beliefs most likely protected us at some point, possibly when we were very young or very vulnerable. Yet they are not adaptive in everyday, grown-up life.
I was very slow to let it go of my grudge against my neighbor, and I think it's because the experience had something to teach me.
A few therapeutic conversations helped me unpack my beliefs at the time. While my ankle healed in the weeks that followed my fall into the ditch, I also worked to let go of a story that no longer served me.
You see, for me, help was actually everywhere. My husband and daughter were home. Help was only 150 feet away. My phone was in my hand. I could have called anyone. Old strategies to "walk it off" didn't work physically or emotionally. But many people around me were and are standing ready to help.
Attaching my frustration to a stranger did not work either. I needed to see the blueprint story clearly so when it shows up in my life, I can thank the blueprint story for whatever ways it served me and saved me at some point earlier in my life.
And I can let it be without letting it control me. I can make a different choice about what to believe and how to interpret my situation. And I can receive the help I need.
What is your blueprint story? Where does it show up? How does it impact your practice of ministry?
++++++++++++++
As #backtoschool and #backtoseminary continue, I hope you will share what you are teaching and learning about mentoring for the practice of ministry with us! We love feedback! You are invited to share your thoughts with us, here!
Please explore our awesome new index to 3MMM! Find topics that interest you and share them with those you teach and mentor or peers in ministry.
It is never too late to sign up for the weekly 3MMM email! Each week you'll receive a new episode as they are published. Invite your professor or pastor to join our growing community of learners and listeners.
Want to watch all the latest episodes of 3MMM? You can read and view them all here!
Find the weekly 3MMM podcast here and listen while you drive, run or take a study break. You can find your favorite podcasting platform here!