"I think it's sustaining to me to have some basic congruence between what I'm doing and what I think is important." – Rebecca
This week's episode of 3MMM is a story about Rebecca.* She has some things to say about congruence, integrity and ministry. Her stories help us think about what it means to embody our values in ministry.
When I was a teenager in my church youth group, I liked taking what I learned and making signs. I liked putting them up in my room. I would hang them where I could see them all the time. They were messages and ideas that I was learning from my spiritual journey.
The one I recall most vividly is one of just two words: Be Consistent. I used big block letters and hung this one from the canopy railing of my twin bed. I saw it every morning when I awoke.
The message to Be Consistent was a reminder to let what I said and did, what I thought and how I acted, who I was every day and who I aspired to be, all to come into alignment, congruence in my life.
Aspirations
The phrase became a mantra for me in my last couple of years of high school. It also lasted beyond that time. Be Consistent is an idea rooted in the saying of Jesus to "let your yes be yes and your no be no" (Matthew 5:37, Sermon on the Mount).
Be Consistent helped me cultivate integrity in my life. It helped me to avoid quick answers and commitments that I might not really complete.
Saying yes and no to life's questions pushed me to own more responsibility for my choices.
As an enthusiast young person, this message slowed me down and kept me (occasionally) from taking on things that would have been too much. (Slow Down was another sign that hung in my room.)
Of course I failed to live up always to these aspirations. But learning to try again after failing was part of being consistent. Not perfect, but present. Not right, but responsible.
How are you cultivating congruence? How are you teaching it to the young people in your life and ministry?
Making Connections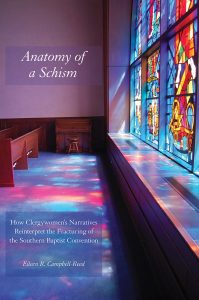 We are excited this October to giveaway  a copy of my 2016 book, Anatomy of a Schism. Want to know more? Read some of the reviews here! If you want a chance to win your very own copy, then sign up for our weekly 3MMM email today!
Who are you mentoring? Who is mentoring you? We compiled our catalogue of 3MMM episodes to inform and inspire your mentoring relationships. Please explore each idea, question and resource at our terrific new index to 3MMM!
To receive each week's 3MMM episodes straight to your inbox, please subscribe to our weekly email! Each week you'll receive a new episode as they are published. You can forward to friends in ministry, mentors or mentees. We want you to join our growing community of learners and listeners!
If you like listening, then the 3MMM podcast is for you! Each week's  episodes are at your favorite podcasting platform!
---
*Rebecca, a pseudonym, is a clergywoman featured in Anatomy of a Schism: How Clergywomen's Narratives Reinterpret the Fracturing of the Southern Baptist Convention. This story is shared with her permission.