"Don't ask yourself what the world needs, ask yourself what makes you come alive. And then go and do that. Because what the world needs are people who are alive." ~Howard Thurman [1]
What makes you come alive?
What brings you joy in the doing?
Where is the gladness in your deepest sense of being and belonging?
This week's episode, the final episode for Year One of Three Minute Ministry Mentor, is about embracing the joy of our callings as ministers, activists, pastors, chaplains and religious leaders of all kinds. Watch Pastor Chloe's story here.[2]
Sure. We have big work to do in the world. Pain, harm, social injustices, and brokenness are everywhere. How can we even think about joy when these challenges are at every turn in our lives?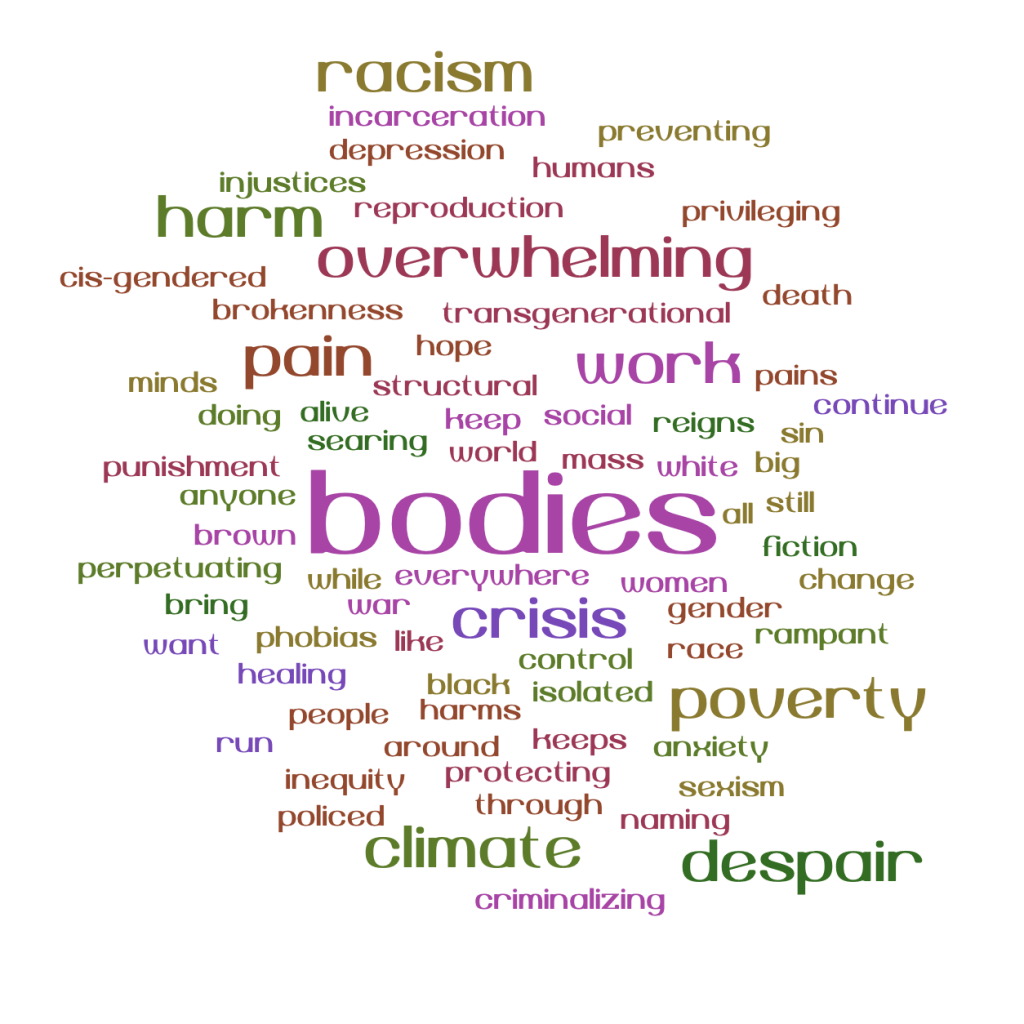 Every one of the challenges, crises, and social injustices in the word cloud above signal a reality that impacts us at the most basic level. The word BODIES is centered and largest because we feel these realities in our very bodies — if we pay attention.
Precisely because our bodies and lives are on the line, embracing joy — even in the midst of all the crises — is essential.
How do we embrace joy in a world of so much overwhelm and pain? How do we practice ministry grounded in joy when so much of the ground we stand on shifts and quakes in fear and despair?
Pastor Chloe found guidance for these questions from mentors and supervisors while she was a seminary student. A minister, a professor, and a spiritual theologian helped to guide her. Together they pointed her to the idea of leaning into the places which stirred up joy, helped her come alive, and gave her energy for her work.
In a world that is dying and death-dealing, floundering in crisis and despair, we need people, as spiritual theologian, Howard Thurman puts it, "who are alive!" And people who are alive find joy in what they are doing. Joyful doing and joyful being means participating in change and justice-making, hope and healing, bringing new and renewed life to the people and places where we serve.
Without sinking a taproot into the joys of life and the deeper sources of joyful living, we will quickly grow weary of ministry and lose hope in life itself.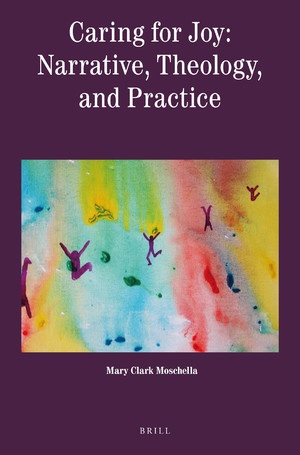 This week's resource paints the portraits of ministers who have embraced joy in their work. In her book, Caring for Joy: Narrative, Theology, and Practice, my friend and pastoral theologian, Mary Clark Moschella writes about Father Greg Boyle, Pauli Murrah, Heidi Neumark and other ministers, who live and practice ministries of meaning and purpose, grounded in joy.
Moschella spent several years studying the significance of joy in coping with grief and working for liberation in the practice of ministry. She says,  "As I understand it, joy comes down to this: to being awake and deeply alive, aware of the love and grace of God, and of the gift of life, both in and around us. Joy in pastoral ministry is the same thing, but magnified by the blessing of a high and holy calling that challenges one to step outside of one's self into relationships of care and communion. The themes and practices that I have found that characterize joy in the settings I have studied include presence, attentiveness, gratitude, release, hope, creativity, liberation, and love."
How are you embracing joy in your practice of ministry? 
Making Connections
What does mentoring look like in your life? Please visit the catalogue of 3MMM episodes to inform and inspire all of your mentoring relationships. With each episode you will find a juicy idea, a story, a question. You can browse the at our wonderful new index to 3MMM!
To receive each week's 3MMM episodes straight to your inbox, please subscribe to our weekly email! Each week you'll receive a new episode as they are published. You can start to anticipate YEAR TWO with us! It begins in January of 2020.
If you like listening on the go, then the 3MMM podcast is for you! Each week's  episodes are available at your favorite podcasting platform!
+++++++++++
[1]Gil Bailie, Violence Unveiled (New York: Crossroad, 1996), xv, attributes the quote to Howard Thurman.
[2] Pastor Chloe, a pseudonym, is a participant in the study of clergywomen featured in
Anatomy of a Schism
. Her stories are shared with permission.