What a delight to share so many conversations with Danielle Tumminio Hansen during the month of February! In these episodes of Three Minute Ministry Mentor she shared insights, stories and questions that really deepen our understanding of ministry as a practice!
Join us in thanking Danielle for being our featured guest on Episodes 55-58 by sharing these wonderful conversations with a friend.
You can explore the wisdom on video or by listening to the full  conversation on our 3MMM Podcast.
We even have more BONUS content to share with you!
Hear more about what Danielle learned when she interviewed other Field Education faculty at seminaries around the country, what she did on her Sabbatical, and what she thinks about the relationship between family and ministry.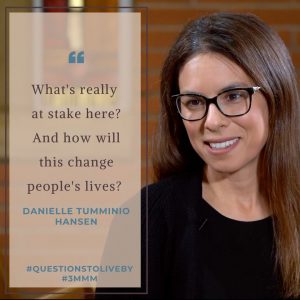 Subscribe to the 3MMM podcast today! All 50 episodes from Season One are easy links here. 
Use the links below to subscribe to the 3MMM Podcast! Three Minute Ministry Mentor is available in all the places you like to get podcasts including these platforms:
All logos and trademarks belong to their respective owners.