We are living in a whole new world. In just a matter of weeks everything has changed. Most of us are spending a vast majority of our time "sheltered in place." We are physically distanced from family and friends. We are also trying every possible way to connect safely and socially without spreading the coronavirus.
On Sunday I took an early morning walk. I shared a picture on Instagram and other social media. I saw a tween girl topple off her bike, and I had to resist running over to help her. She was fine and jumped up right away. But it was another indicator of how we have to put all our natural inclinations on pause.
After 3 1/2 miles in the neighborhood, and a quick shower, it was time to go to church on Zoom. It was beautiful to be with my church community. My voice cracked as I try to sing along with the hymns. I sat with my family on the porch as we worshipped. The birds sang much more beautifully than we did.  After the service we had "happy hour" in which we shared things that are helping to keep us afloat during this time of loss, distance, grief, and change. It was good to laugh with my faith community and celebrate retirement's, new safety equipment for healthcare providers, and birthdays.
After lunch I heard cars honking on my usually quiet street. I came from the back yard to find my six-year-old neighbor and his family at the end of their driveway. It was his birthday and friends were coming by in a parade of cars and trucks. They were honking, waving, playing music, sporting balloons and streamers, and shouting happy birthday. Some handed gifts out the windows. I found myself crying again as I watched the creativity and joy of working around the limits of our new situation.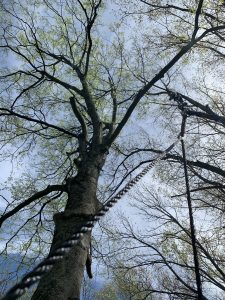 Later in the afternoon I was prepping for class, which is totally online for the rest of the term. I was sitting in the swing looking up at the tiny new leaves on the oak trees. And reading from Renita Weems book, Listening for God. It has at least a hundred worthy quotes. This one stood out:
"Some of the most memorable encounters with grace are those that erupt into the daily details of mundane, ordinary life. The challenge for me was to cease looking for God in the spectacular and to take delight in the joys and rewards of everyday fidelities."
Right now we could all use a little more grace. We could all use a little more joy. We aren't going to find it in the spectacular. But it is right there in every small ordinary detail of life. God is present with us in each small thing and every moment. There is so much in the world that is troubling right now and needs our every prayer. Children that won't have birthday parades. Parents who have lost jobs. People who are dying without loved ones nearby. Caring professionals who are risking their lives every day.
To have the strength to pray, lead, and care, we cannot look only in the face of disaster and despair. To practice ministry in this new world, we need to see the grace that is erupting around us. We need the respite of the ordinary, the mundane, the tiny joys in new green leaves, backyard swings, porch lunches, and zoom worship.
Deepening our Skills for Paying Attention 
Ethnographers make it their work to take note and reflect on what they are seeing, feeling, hearing, and tasting in the world. And we can learn from them how to notice the tiny details and the connections between small and large things. We are fortunate this month to have Mary Clark Moschella as our guest on Three Minute Ministry Mentor. She is an ethnographer as well as a pastoral theologian.
In this week's episode, Mary describes an assignment she gives to her students. When students take her course in "pastoral ethnography," they are sent out to situations of ministry and assigned to take field notes and write up a mini-ethnography. Such careful seeing of small details and large changes in the world, are just the gift we could all use right now. Watch and listen to my conversation with Mary.
The practice of stepping back, paying attention, and reflecting on both the mundane and the ways that the holy infuses those everyday moments, is the practice that pastors, chaplains, youth ministers and activists all can use right now.
To help you hone your skills of pastoral attention, I've created for you a special free download. It crystalizes Mary's suggestions and my own for how to see your pastoral setting anew and pay attention to the people and the holy in this present moment.
We are also continuing to update our #PandemicPastoring resource page. We've doubled the number of links from last week. Do you know of something else we should include? Drop us a note and share the link!
Remember we can do this hard thing… together.
Thanks to our quarterly sponsor: