Advent is here.
And how much do we need it right now? So much. Often in the first week of Advent we focus on prophecy and the gift and promise of hope. This year prophecy, gift and hope may sound out a little out of reach. When we are overwhelmed by loss, grief, and uncertainty making room for hope can feel beyond us. Yet most of the biblical prophets spoke into very harsh times. Speaking the truth in love is a prophetic move, one we could all use more of about now.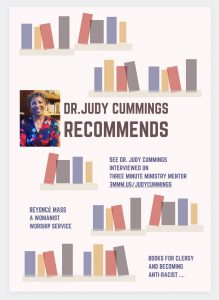 One way to speak truth in love and to cultivate hope in our lives is to recall the ways God's Spirit has acted and moved already. This week Rev. Dr. Judy Cummings, Senior Pastor of New Covenant Christian Church (Disciples) shares with us how God's Spirit is moving and drawing us into powerful change. She also gives clues about how we can do our part to embrace the good news of meaningful change. Biggest clue? Read! Then act!
In this week's conversation,  Dr. Cummings and I talk about two urgent changes that the church needs now: expanding women's leadership and becoming anti-racist. She also shares her reading recommendations to help us embrace both kinds of change. The Spirit is luring us toward hope… hope for a more welcoming, inclusive and prophetic church.
++++++++++
Dr. Cummings wrote her Doctor of Ministry thesis about women in ministry and how they break through the stained glass ceiling. I asked her about the changes she has witnessed since doing that research. She describes four shifts she's seen since 2008…. 
Here are four recent changes Dr. Cummings offers as a witness that the Spirit is leading more women into ministry and shifting attitudes in the church.
More organizations exist now to support women in ministry, such as Equity for Women in the Church
Womanist theology is doing the work of changing hearts and minds. Dr. Cummings recommends books in the download below!
More women are pastoring large churches.
More denominations are calling women to lead their organizations. For example in 2017, the Christian Church (Disciples of Christ) elected Rev. Teresa "Terri" Hord Owens, General Minister and President.
We also talk about other books on Dr. Cummings' reading list, especially the ones that help us build courage and stamina for becoming anti-racist. That is the work of churches much needed in this moment.
You can receive Dr. Cummings' 2020 reading list and additional book recommendations for clergywomen in the free download below. As a bonus we also have more book recommendations from Three Minute Ministry Mentor especially for clergywomen. We want to help you build your library to support prophetic hope for change.
We also find out what's on Dr. Judy's reading list in 2020. She shares more than you will even hear on today's interview. Download the recommendations here:


Dr. Judy Cummings Recommends – 2020
++++++++++