Editor's Note: This week's author conversation is about the #MeToo movement and the church's failures to respond. It may be difficult for some readers.
Mentoring relationships for ministry: at their best, they provide support and direction and care. They teach valuable relational aspects of the practice of ministry. They make space for growth. At their worst, they can be harmful or toxic and do long-lasting harm. This week our topic is mentoring relationships: the good, the bad, and the ugly.
Here's the good… (very good!)
To help us with our task, we are welcoming pastor, author, and speaker Ruth Everhart to this week's episode of Three Minute Ministry Mentor. Ruth's latest book, The #MeToo Reckoning landed in January 2020, just weeks before the pandemic shut down travel, social gatherings, and most large scale events. In spite of the very difficult timing of the release, her book was recognized as one of the top five books in religion in 2020 by Publisher's Weekly. Amazing!
Although Ruth and her book did not get a full round of engagement last year, it is never too late to learn from a good book or a gifted author and pastor. You are invited to engage that learning today and in the coming weeks. The stories of #MeToo and #ChurchToo in Ruth Everhart's book deserve our time and have so much to teach.
Ruth and I created a four-week workshop. Our weekly topics include the following:
Challenging Patriarchy and Power
Empowering Prevention and Response
Reimagining Ritual and Liturgy
Envisioning a New Beloved Community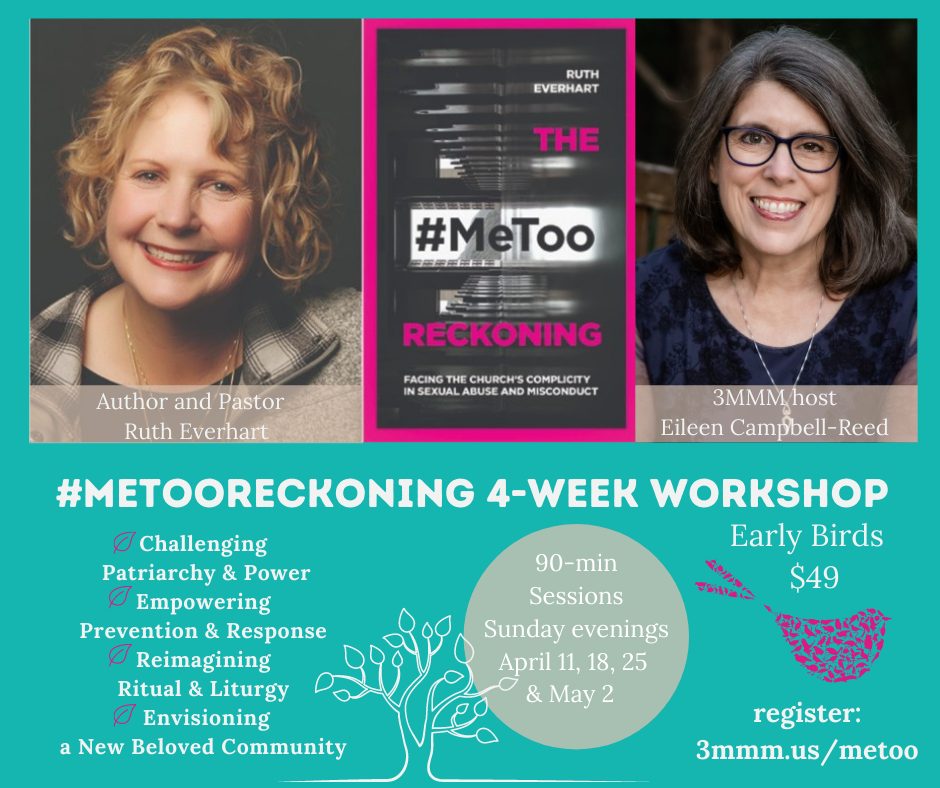 You can register for the workshop today!
Learning in Practice with Ruth Everhart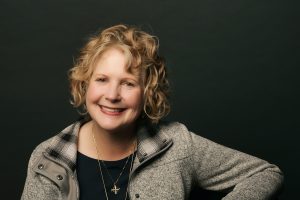 We interviewed pastor, author and speaker, Ruth Everhart with the questions that help us learn about her practice of ministry. We asked about the questions she lives by as well as questions she struggles with. And we asked about her most recent book The MeToo Reckoning: Facing the Church's Complicity in Sexual Abuse and Misconduct. In the book she tells the painful and lamentable stories from scripture and contemporary ministry. These stories are the ugly ones that include abuse, misconduct, rape, and mishandling of the church's role and response to these harms. They are also powerful because they give voice to women's stories that must be told if we genuinely hope for change. They are part of a long-overdue reckoning.
What questions do you live by?
+ Am I showing myself to be compassionate, courageous and authentic?
+ Is this something to let go of, or something to hold tight?
+ Is it time for another cup of coffee?
What questions do you wrestle with in your practice of ministry? 
+ What work is mine to do, and what belongs to the lay leaders?
+ How will my actions affect my some-day successor?
+ How can I make this more lively and fun?
Who has been a mentor for you in ministry?  How have you invested in mentoring new and beginning ministers? 
How has your practice of ministry changed over time?  
RE: When I began ministry, preaching every Sunday was an uncomfortable exercise — it preoccupied my thoughts and dominated my schedule. Over the years preaching didn't become more comfortable, exactly, I just became more comfortable with the discomfort of it. Mainly I quit worrying so much about doing it wrong. I started believing in the message of Grace.
Tell us how you came to write your latest book The #MeToo Reckoning? 
RE: I didn't choose the topic. Really, who would choose to write about sexual abuse? I wrote it because I felt called by God. I wrote from my scars. When I was 20 years old I was the victim of a violent sexual crime. That experience affected what I believed about God, which eventually led me to seminary. Thirty-five years later, I felt called to capture that faith journey on the page. My memoir, RUINED, was published in 2016, and was ahead of its time. I was inundated with responses from readers.
When #MeToo stories spread across the media in 2017, I felt called to look specifically at the question of how faith communities respond to sexual abuse. Once again my work was informed by my own story of abuse — as you suspected, that senior pastor from question 3 above! This time I wanted to overtly use the lens of scripture. My goal was to interweave current stories of abuse with Biblical stories, so the two could inform each other. I wanted readers to experience the power of the text firsthand. 
What is on your must-read list right now?  
Doe by Susan Baller-Shepard (Finishing Line Press, 2019)
+++++++++
**You have an opportunity to experience mentoring from Ruth Everhart in the coming weeks. What an amazing opportunity to build skills for preventing and responding to sexualized violence in the church. Don't miss out! Register today!
---
Mentoring for Skill
In this week's video you will hear a story about Bob who has a difficult and disappointing start with his pastoral mentor. Bob is a participant in the Learning Pastoral Imagination Project, and his story is part of my new book, Pastoral Imagination: Bringing the Practice of Ministry to Life.
Here's the bad… (but not the end)
Bob finds himself sitting in his pastor-mentor's office saying, "When you hired me, you said you were going to be a mentor, and you were going to teach me things, and you haven't done crap." Learn what happens when Bob's work as a minister comes to an abrupt end. It is not a story of mentoring that fulfills hopes and dreams.
But it is also not the end. Bob it gets a second chance . . .
More on "Mentoring for Skill"  | video | blog | podcast
++++++++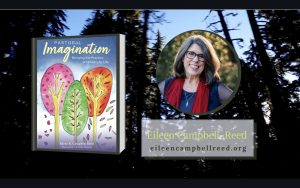 "Mentoring for Skill" is one of 50 lessons in pastoral imagination and spiritual growth in Eileen's forthcoming book, Pastoral Imagination: Bringing the Practice of Ministry to Life . Pre-orders are open now!
News of how to order both the book Pastoral Imagination and its companion journal is coming this week!
We hope you and a friend might join us in April and May for the #MeTooReckoning Workshop. You'll be glad you did!