Editor's Note:  Today we welcome Rev. Elizabeth Hagan as our guest! Most recently Elizabeth served the Palisades Community Church in Washington, DC as senior minister. She is a graduate of Samford University and Duke Divinity School. She is also the Executive Director of Our Courageous Kids, a foundation serving young adults who grew up in international orphanages, with educational and mental health support. You can connect with her and learn more about Brave Church at elizabethhagan.com
How to Survive Tough Conversations:
Five Guidelines for Brave Church
by Rev. Elizabeth Hagan
We've all been there.
Church fights in the parking lot.
Elders or deacons meetings that turned into shouting matches.
Sunday School classes that got heated quickly and were never the same.
To our conflict weary selves, the thought of bringing up that controversial subject feels like the impossible task.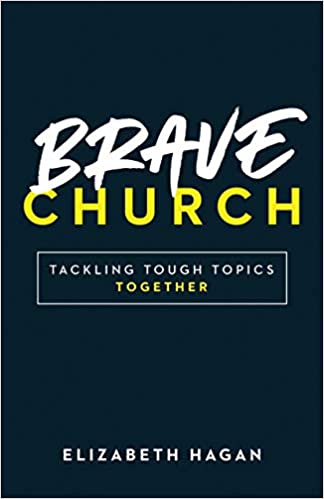 We are afraid that someone might leave the church (when our church rolls are already so slim).
And we are afraid someone we love might never speak to us again.
We are afraid of decline in church giving, too.
So, before we even realize it, our church small groups and gatherings are simply polite. No one says what they really want to say. Few prayer requests list out the real concerns of on our hearts. It's easy to be a life-long member of a church and wonder: If these people really knew what was going on with me or in my home, would they still welcome me?
If these people really knew what was going on with me or in my home, would they still welcome me?
But if the past couple of years have taught us anything in all the social unrest and experiences of Covid-19, the time for change is now. Our communities and souls want more. We want to know we belong somewhere. We want more real.
Surviving conversations without worst-case scenarios
How can we survive these tough conversations without our worse-case scenarios coming true?
Several years ago, I was delighted to stumble upon an article called "From Safe Spaces to Brave Spaces" in The Art of Effective Facilitation, written by Brian Arao and Kristi Clemens, two student affairs educators at New York University. They suggested a better environment for dealing with tough topics—a "brave space" that allows participants to listen to one another and learn from challenges.
Soon light bulbs went off. I thought about how this research could be applied to church communities. Drawing on their work, along with my 15 years of pastoral experiences and all the hard conversations I'd had with parishioners, I began to adapt Arao and Clemens' rules. And I believe they can help churches have tough conversations which became my latest book, Brave Church.
How to get tough conversations started…
1) Accept conflict and commit to the way of kindness.
Too often in churches we lean into the idea that influential or happy communities are those that have no conflicts. We silence voices or experiences that are hard to hear by the popular saying, "Let's just agree to disagree." We try to hide conflicts below the surface when true growth can only happen when experiences and feelings are shared. Yet, what we can control is our tone. We can commit to kindness no matter what.
2) Take responsibility for how your words are received.
It's common in small group church settings to say to one another "just don't take things too personally." What this assumes, however, is that hurt is not real when conflict happens. You survive hard conversations however when you're willing to say, "I am sorry my words were hurtful." We all do our part to own our impact.
3. Ask permission before challenging someone's views on a subject.
When you're having tough conversations, it's great to spend time with one another understanding why a person believes the way they do or sees the world through a particular lens. But here's the key: not everyone is ready at any time to go this deep. We all have tender days.We survive tough conversations when we give people the space they need to reflect, process, and heal, not by barging in just because we want to.
How do we survive tough conversations in CHURCH? @elizabethagan has guidelines in her guest post today on #3MMM and in her new book #BraveChurch pic.twitter.com/15uWXWFZgJ

— Three Minute Ministry Mentor (@3MinuteMin) July 9, 2021
4) Graciously receive feedback if someone feels disrespected.
It's easy to assume that when you are showing respect for others that they receive it. But, in the multitude of life experiences that anyone brings to a group experience, this not always this case. We survive tough conversations when we recognize that respect for you doesn't necessarily look like respect for others. We work together to understand how we can show love in the most helpful ways.
5) Use "I" instead of "you" statements. Do not accuse or attack.
During a tough conversation, discussions can easily become personal. We can point fingers quickly. We deflect our feelings onto others. Yet, we survive hard conversations, when we work to use language that begins with our own experiences. In tense moments everyone can feel heard when we begin by talking about ourselves before accusing someone else.
If you are interested in learning more about moving through tough conversations, I'd love to share with you my book Brave Church: Tackling Tough Topics Together. It guides readers to think through how they can foster conversations about such challenging topics as infertility/miscarriage, mental health, domestic violence, racism, and sexuality. It's a great small group resource that I believe will help your congregation not only survive but thrive in tough conversations.
Speaking of conversations, enjoy this recent one between Elizabeth Hagan and Eileen Campbell-Reed!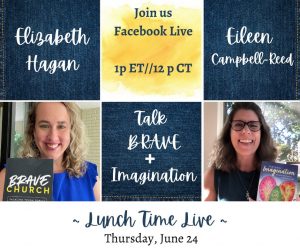 Elizabeth and Eileen talk Brave + Imagination