Sometimes life and loss and longing and love are more than our words can contain. Through these challenging days, only a prayer of silence is enough. Because the deep peace of silence is all that can hold life as it happens. So as you face the holiday season ahead, let this prayer, punctuated by silence, help you hold and carry the fullness and emptiness of life.
You may also recognize the close of each stanza, which is from a very old Gaelic Blessing that I have been praying for many years.
A prayer for loss and longing and love
For all the holiday traditions that don't work any more
For the loss of direction
For all the moments you laughed until you cried
For the words you could not say
For all the looks you longed to give
Deep peace of the running wave to you
*
For the systems stuck, broken, and doing more harm than good
For the breath and life that came to an end in your circle this year
For all the hugs you could not give
For every love lost
For every new longing of desire
For songs you ache to sing while lost in an endless crowd
Deep peace of the flowing air to you
For work that fills the hours of your day
For trips untaken
For shorter days and darker nights closing in around you
For stunted growth, seeds unplanted, and even the wild new sprouts
Deep peace of the quiet earth to you
**
For messages unsent
For lives unlived
For dreams unremembered
For futures unimagined
Deep peace of the shining stars to you
For nights without sleep
For tests taken, and failed, and passed, and forgotten
For disappointments and tears and rants and jaws clenched
For long evenings spent waiting for someone to come home
Deep peace of the gentle night to you
For justice denied
For clemency granted
For every one sitting alone in prison
For every one sitting alone at home
For every one sitting alone surrounded by family and food
Moon and stars pour their healing light on you
For every hope that sustains you
For every love you have ever known
For every tiny flicker of joy
For every candle glowing in hope
Deep peace of Christ the light of the world to you
Deep peace of Christ to you
© Eileen R. Campbell-Reed
++++++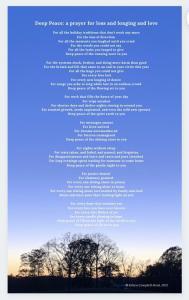 If you would like a poster (8.5 x 14) of the prayer, then download below. The PDF is suitable for printing.
For tonight the download is open access.
Deep Peace – A Prayer © Eileen Campbell-Reed 2021