Bridges
I have an invitation for you. But first an image.
You've heard of the Bridge on the River Kwai? A Bridge over Troubled Waters? How about the Bridge to Terabithia? War. Grief. Escape. The search for relief.
A bridge is a useful image and symbol for change and transition. Bridges help us imagine how to move from one space to another. They give us a way to envision holding together complex lands and spaces. Last year (2021) was nothing if not a complex space. I don't know about you, but I  need to let go of some things from last year. I recently finished some writing projects, which is a huge relief. But unfinished tasks and loose ends, and strands of grief remain. They complicate plans and dreams for the year ahead. And all of it has been undermined by the turbulent waters of the last 21 months. 
So I need a bridge. 
I'd like a bridge to Epiphany, please.
A bridge to a place where new revelation and new light shines. A place where things come to light, and truths are told, and revelations are possible. The pandemic has revealed many broken places in society, fractures in our churches, disparities in our healthcare systems, and tears across the social fabric. It has pulled back the curtain on wizards which were doing tricks and light shows like the Wizard of Oz. I want real light, sunlight, the brightness of understanding, An Ocean of Light, some enlightenment, or even the soft flicker of joy. 
But I need to get out from behind some curtains myself. I need to leave some things in the past. I need to walk over the bridge to a new place. 
A Bridge to Epiphany
I sure could use some companions. Come with me, and we will write, and talk, and pray our way across the bridge. 
Let's meet on Wednesday. January 5 at high noon. (Central time which makes it about fair for everyone else East and West of here.)
We have been asking questions for the Twelve Days of Christmas. I hope you have been considering them. Exactly for this moment, this bridge, I have new questions, deeper questions, to help us over the Bridge to Epiphany.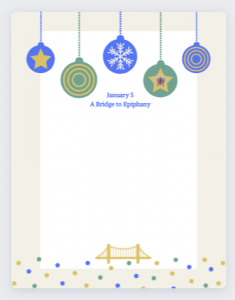 We will keep it to 75 minutes. Bring your tea or coffee, a beverage of choice. And there will be a bonus of 15 minutes at the end to preview what is coming for 3MMM in 2022. We will have time for writing. Download this inviting handout to write on — if that's your jam. There are more handouts for everyone who signs up to join me on Zoom.
PDF download: Bridge to Epiphany 2022 – doodle-write-think-draw
There will be no smart goals, or star words, or new-year-new-you. However, there will be time for acknowledging what you've learned, honoring what you have done with your time and energy, grieving and lamenting what has been lost. And with these things making a bridge from a very challenging season into future stories that nourish us and ground us as we give leadership and care people we are entrusted to lead.
And we have a couple of surprises for you to help you along the way into this new year.