In Octobers past, I've written about Clergy Appreciation Month, and in 2022 we invite you to think about clergy appreciation for a new era. Because I surveyed an interviewed clergy between 2020 and 2022, I have a pretty good idea about what they need and desire right now. And I'm offering three suggestions for what may help clergy to feel appreciated and supported.
1. Clergy will feel more supported and appreciated when they are not struggling to make ends meet.
As you plan for paying your ministers, be sure to include full coverage for salary and housing, life and health insurance, continuing education, ministry expenses, and travel coverage for meetings and events that you expect them to attend. If you need an overview or refresher on how to pay your ministers or chaplains well, you will appreciate this Compensation Guide, a resource from the Cooperative Baptist Fellowship Church Benefits Board.
In 2022, the cost of living adjustment (COLA) projections are higher than they have been in nearly 40 years. Not yet announced, the COLA may be as high as 10% for 2023. Clergy need a substantial raise. They are already among the lesser paid professionally educated leaders in the US. At the same time, many churches increased giving and cut costs during the first two years of the Covid-19 pandemic. It is time to compensate our ministry leaders and staff more fully.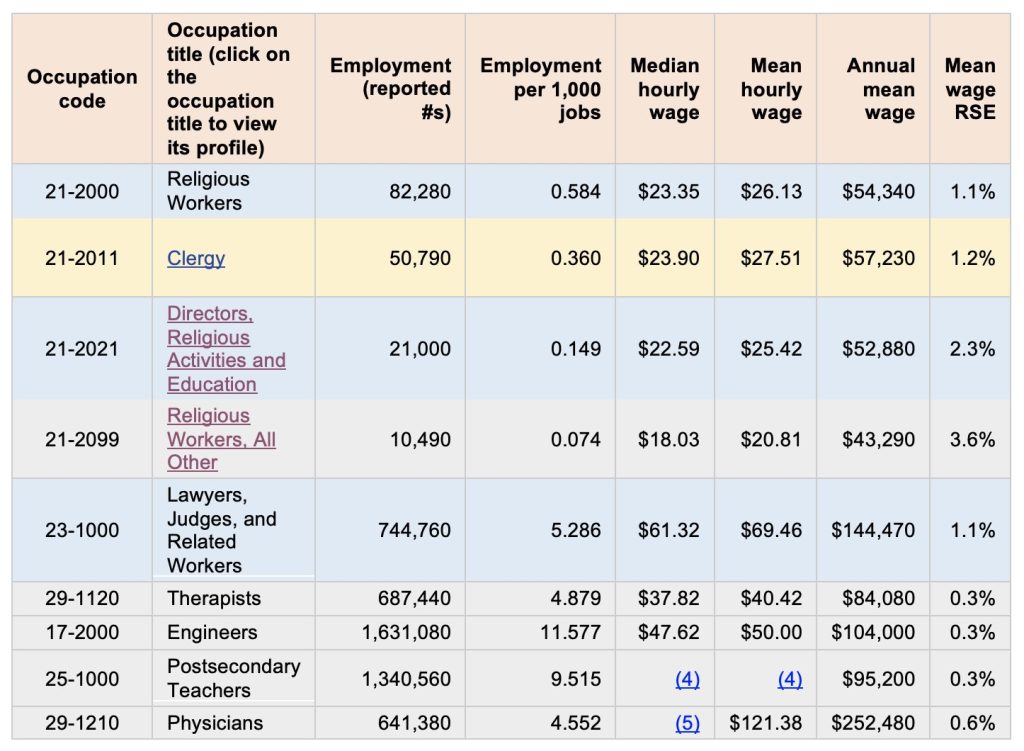 In the past 30 months pastors and chaplains had to learn how to do things they never thought they would have to learn. They worked more hours and expanded more skills than perhaps at any other season of ministry. They now have the task of leading through a new season and era of re-assessment, renewal and re-visioning. Please acknowledge this work with at least of cost of living increase.
2. Clergy are exhausted. And they will benefit from taking more time off.
In addition to more adequate salary, ministers need more time off. Ideally your church or ministry agency can provide both. However, if you don't believe you can give clergy a raise, consider at least giving them additional time off with pay.
We asked ministers and lay leaders about the kind of support they would most appreciate. The following answers came from clergy: a break or time away, more rest or sleep, and better self-care. They also needed time and space for processing grief, which means not working all the time. Please, encourage clergy in your organization to take the time off that's already designated each week and each year. And if possible, arrange for more time off in the coming year.
3. Clergy need to process the change and grief of the last 30 months. They will likely appreciate your encouragement and financial provision to seek out professional support.
Although lay leaders very rarely named coaching, mentoring, counseling, and/or spiritual direction in their lists of self-care practices, pastors and ministers did so often.
When I surveyed clergy between June 2020 and April 2022, I asked how they care for their spiritual well-being. Their top five answers included professional support from a therapist, spiritual director, ministry coach, or consultant. Please consider adding money in your church financial plan for ministry that allows clergy to engage in this kind of support directly.
No need to tell them who to see or what kind of support to seek out. They can figure that out on their own. However, by putting money in the budget, you give them not only encouragement, but also a better tax break. It helps you ensure that you are giving something they need and want. Have a frank conversation with your pastor about what is desired and reasonable. A monthly coaching fee paid directly to a coach or mentor, is rarely covered by insurance. Yet counseling may indeed be covered by insurance plans that pay for therapy. If that is what they prefer, then by all means do your best to provide it. If you cover family healthcare, make sure it also includes coverage for counseling.
Here are a few individuals and groups who offer this kind of care to ministers.
Center for Congregational Health
Rev. Mary Elizabeth Hanchey
Rev. Dr. Charity Roberson
Here Comes the Sun: Coaching and Consulting for Christian Leaders
Pinnacle Leadership Associates
Laura Stephens-Reed, Clergy & Congregational Coach
Stewardship Strategies: Know, Invite, and Thank
This weekend I wanted to put a few ideas about stewardship into a quick video for clergy and lay leaders who are guiding churches through budgeting and stewardship processes right now.  I had to share the stage with an angry blue jay. But everyone has a hard afternoon now and again. Here is a brief set of ideas about supporting and appreciating clergy and inviting your organization or congregation into the process with you.
As you plan support, encouragement and appreciation for clergy in your life (or for yourself as a clergy person) I hope these ideas will embolden you to do something intentional. The beloved community needs leaders. It needs leaders who are rested, well cared for, and renewed.