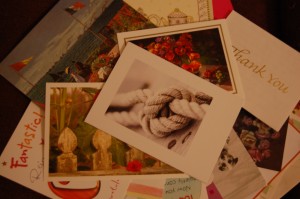 So Noted
My first conscious memory of note-writing comes from the elementary school. The teacher gave us lined paper. We had to learn the parts of a letter and fill in all out completely. Date. Name and address. Salutation. Body. Closing. Signature. Then we actually sent the letter to someone. I think I wrote to my grandparents or maybe it was my cousins.
In the 1980s and 90s It was very fashionable (maybe especially in the South) to write a lot of thank you notes, to send cards for every occasion, and to write letters.  I got lots of practice at these things. But I still wrote down hill or ran out of room on the page fairly often. Hard to plan ahead.
And it takes time. One of life's more precious commodities.
As I was preparing to enter ministry full time, I got some great advice from Cherie Smith, one of my pastors and friends. Actually it likely came during that long season of searching for ministry jobs in which we gave each other a lot of support and together helped shepherd a little house church (another good story for another day).
What Cherie said to me was to create a file for keeping the notes that come my way as a pastor and refer to it whenever I'm wondering if what I was doing was doing anyone any good. She said she called hers an "upper file." Whenever she was feeling "lower than whale poop" (one of her funny, endearing phrases) and needed to rise from the bottom of that ocean, she could look in her "upper file" and find reasons not to stay down.
I took her advice. I opened that file. As letters and cards found their way to me I read them. Then I dropped them in my own "upper file."
Funny thing, though. I almost never looked in it.  I didn't re-read or even really think about it being there. Yet in the back of my mind I knew it was. If I needed to look there, I could.
Today, I went to a box of church stuff and I looked for the "upper file." I pulled it out and perused. It was somehow smaller, thinner than I recalled. I read a few notes. I tried to place names with faces from my memory. I grinned at the pictures children had drawn for me. I saw notes that friends, family and professors sent when I was called to the church. As I started to replace the file, I saw another.
Oh. It got too full and I started a second folder. Hum.
This is the other side of my advice* to write notes to people in your care if you are a minister – at any stage of your path through ministry.
I have no clue how many hundreds or thousands of notes I've written. I try to speak from my heart then let it go. It becomes part of a vast invisible legacy of love and community that holds ideas and people and lives together. But the particulars are lost. And that is so incredibly fine. Just fine.
Just the few words, images and phrases I picked through today transported me to another time, to the faces and lives of people that I cared about, some who are no longer living, others who are as close as a call, email or fb chat. Words make and unmake worlds. As pastors and teachers we must handle them with great care.
One single sheet of paper insisted that I make a copy. It has no indication who wrote it, copied it or gave it to me. It is handwritten and dated right around the time I was voted into my first full-time ministry job.
If you know where this came from, who wrote it, or who gave it to me, please drop me a note (smile). I want to give credit. It is lovely, so I'll close with it. The writer put my name in, but you could substitute your own.
For Eileen 9/24/94
"Women wash the world clean,"
I've heard it said
with steadfast determination
to stand till justice meets the dawn
in the wake of half truths, passive avoidance,
and outright falsehood
women, like you,
"wash the world clean"
so that, perhaps, one day
people will begin to tell the truth
and children will be raised on honesty
as well as peace
and someone will read the words
of Eileen Campbell-Reed
and remember
that God has blessed the forgotten ones,
has fought fiercely for Her own —
the negelected and overlooked
and some little girl, not yet six,
who is sitting in the pew
will find fodder for her dreams
in the image of a woman like you
who believes, yes
truly believes
that all persons are created equal
and bear, in their bodies, as well as souls
the reflection of our Mysterious God.
_________________________________
* This is the tenth in a series of stories unpacking a list of proverbs for young women (and others) considering a call to ministry.
10. Write notes. By hand if possible, or at least by email. Connect with people. Ask how they are. Tell them how much you love them. What they contribute to the community and your life. Be grateful in everything or say the hard thing that won't come out when you try in person. Use words like the most precious of gifts and take care for they are powerful beyond your imagination.