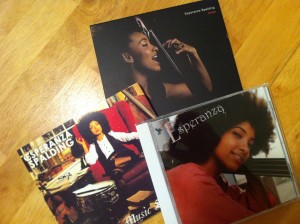 Esperanza*
Hope in Spanish. This young prodigy of a bass player and vocalist, Esperanza Spalding entered my horizon almost a year ago. Two friends mentioned her at nearly the same time.
I started looking around for what she was singing and soon ordered her 2010 release Chamber Music Society. In this past year, Esperanza's recognition factor has sky-rocketed. She was already climbing when she was nominated for "Best New Artist" 2010 Grammy in December. Then in February she won the award, surprising many fans who were expecting Justin Bieber to take the prize.
She is amazingly gifted and willing to work hard to hone her craft. She said this recently about working at her skills and talent as a musician:
"I'm not a master of my craft. I am still a student. I have achieved a certain level of efficiency," she said. "Some things are not together, which is O.K. because I'm young, because I will get this together."
One of the reasons to immerse oneself in the art, music, poetry and writing of others, is because they see the world in creative and provocative ways. Not always do artists themselves let me or you into their work or world of innovation. However, Spalding is one of those who is willing to let us see something of herself as an artist in process. She's willing to talk about how she learns and what she has learned about herself.
In getting ready to hear her live in a few weeks I ordered up her 2006 album, Junjo, which is a collaboration with pianist Aruán Ortiz and drummer Francisco Mela; and I ordered her 2008 self-titled first solo album, Esperanza. 
I'm getting to know her and impressed by many things. One of those things goes straight to the issue of pastoral practice. To become a pastor or spiritual leader who is the most practical of theologians, it helps to consider what we do in terms of the way we practice what we know. There is a lot to be learned from musicians, artists and poets in this regard. The second thing worth mentioning tonight is the beauty with which Spalding expresses her art and her soul. That kind of soulfulness is worth noticing for the question it asks of each of us: how is my living speaking the truths of my life? T'his is a question of incarnation.
In the liner notes to Junjo she writes this:
"I must express my gratefulness to the great spirit, or force, or being we call god whose beauty, presence and effect in and on my life invokes infinite inspiration, admiration, and wonder. I love each day and the chance it gives to grow and learn more about the depth of creation, and its perfection, and how to find heaven within it. What a joyful journey!"
To share just one more, here is her performance at the 2009 Nobel Peace Prize concert in Norway. This song "Espera" (Waiting) surprised me with its thoughtfulness and honesty about the way belief – especially belief in anything really significant – works.
I'll leave you with her words:
if we make some small changes now
we'll heal ourselves, some way, some how
_______________________
* This post is part of a series of stories and thoughts for those considering a call to ministry.
11. Absorb good music, books, poetry and art. Reach far. Don't waste time on crap. Unless everyone in your congregation or ministry setting is reading it, or listening to it, then consider it. But be prepared to say what is to appreciate and what can be let go in it. You could do this for all good books, poems, music and art. Remember whatever else you are, you are also a pastor and the most practical of theologians.