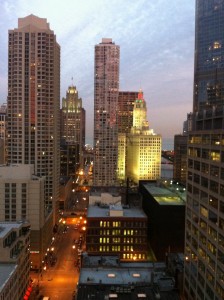 Windy City
The next few weeks hold lots of travel. Next stop: Chicago for the American Society of Church History annual meeting. It will be my first time to attend that gathering. I'll tweet some impressions and anything notable I hear. I'm looking forward to some interesting papers and conversations.
I'll also be meeting up with and presenting together on a panel with three other women who also study and write about Baptist life and gender. More about Betsy Flowers, Karen Seat and Susan Shaw in the next post on Saturday.
Here is the program announcement about our panel:
Conflict and Compromise: Reappraising the History of Gender in Southern Baptist Battles
Saturday, January 7, 2012: 9:00 AM-11:00 AM
Westin Chicago River North, Promenade Ballroom B
Chair: Seth A. Dowland, Pacific Lutheran University
Papers:
The Christian Woman versus Woman's Lib: Southern Baptists, Women, and 1970s Evangelical Culture
Elizabeth Flowers, Texas Christian University
Conflict and Contradiction: Southern Baptists and Engagement with Feminism
Susan M. Shaw, Oregon State University
(Sub)mission: How Clergywomen Re-imagine Southern Baptist Identity and Reinterpret Schism
Eileen R. Campbell-Reed, Luther Seminary
The Politics of Southern Baptist Complementarianism
Karen K. Seat, University of Arizona
Comment: Sarah Ruble, Gustavus Adolphus College
5:00 PM This just in: Associated Baptist Press released a story today about a new Bible Commentary BY and FOR Complementarians (those who believe "biblical womanhood" means submission of wives to husbands and no spiritual authority by men over women). The panel on Saturday will offer historical analysis on this movement in Baptist life over the last four decades.