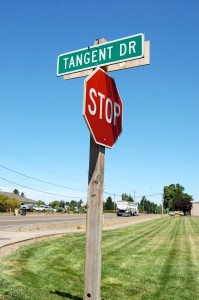 Detours
Yesterday and today included some detours. Sometimes life throws up a sign that says go another way! Fortunately, I was able to stop and refocus and find my way back to the path of writing.
In the Writing Club we are invited daily to list Negative Statements. I find it so helpful to externalize the negative things I can say to myself. Today I wrote: "I had to reboot my computer, download some updates and take another call. I feel derailed. But I'm going back to my list and starting over. Maybe I can accomplish something today."
Any positive statements to replace them? "WAIT!  I already have accomplished things: I revised a letter; I reworked 2 course descriptions; I made it half way through revising my teaching statement;  I edited a section of chapter 2; I had 2 important phone conversations; I'm about to have 2 more very productive poms." I wrote very productively for the next hour.
It is possible to stop on Tangent Drive and get back Writing Way. Whew!