Lenten Lights FF ~ Guest Post by Michaela O'Donnell Long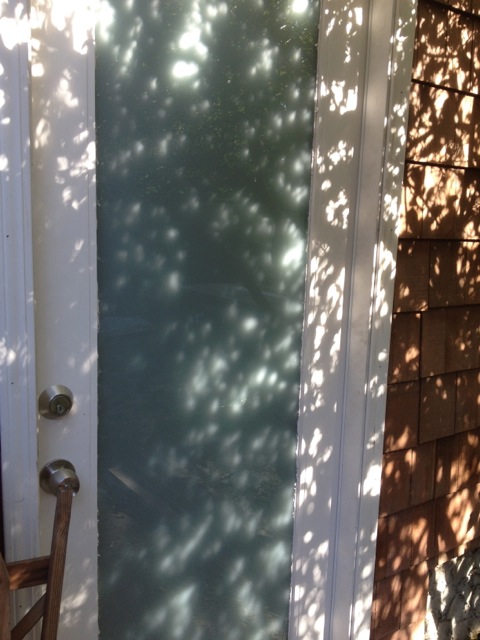 Today's photo and reflection come from photographer, media producer, and friend, Michaela O'Donnell Long.*
"Morning Door" by Michaela O'Donnell Long 
I work from home. Well, technically, I work from my garage-turned-studio. Each morning when I make the trek to my studio, this door greets me. Because it's a fog-glassed door the morning sun causes the adjacent lemon tree to dance across the exposed glass. And often, because I have my coffee clutched in one hand and my computer in the other, I'm forced to spend a moment in front of it—watching the shadows flutter as I search for my keys.
But, the morning door must also sleep. By noon it has all but vanished, giving way to the hot day, the setting sun, and the day's inevitable nightfall.
In this season of Lent, we are reminded of Jesus' death—and that with it comes pain and sadness. But, just as the morning door emerges on the heels of night's darkness, so do the mercies of God's love. In the resurrected Jesus we find God's grace to begin each day in remembrance of his death and grateful for his resurrection.
_________
* When planning this Lenten Lights series, I decided to invite a few guest posts. I met Michaela O'Donnell Long at the Academy of Religious Leadership meeting last year and we struck up a very interesting and helpful conversation about photography and leadership and theology. She is working on her PhD in leadership at Fuller Seminary. You can see her creative work at Long Winter Media.