New Weekly Video Series Launches in Advent
Everyone in ministry needs a mentor. Whether you have one currently or feel like you could really use one, our new video series, Three Minute Ministry Mentor, is created exactly with you in mind! The series will launch in Advent 2018, and each week for the next year, it will bring a new idea, a story, a resource, and a provocative question directly to you. Whether your calling and work takes shape as a pastor, chaplain, minister, activist, seminary student, or as a mentor, supervisor or professor of ministry students, this video series is for you. The entire ecology of ministry – in churches, on the streets or in chaplaincy settings – thrives when ministers engage in intentional mentoring relationships.
Because ministry cannot be learned all at once, or even in three years of seminary, our weekly three-minute videos are designed to foster your growth in the practice of ministry over time. Each week's video, produced by Adelicia Co., will give you a launching point for conversations among ministry peers and friends, between seminary students and professors, and even for current mentors and mentees already working together. To receive the video at your inbox each week, sign up using the form at the end of this post.
If you are isolated in your ministry setting, these weekly posts will give you a lifeline for continuing your growth and expanding capacity in the work of ministry with others. After exploring new ideas through stories, resources and questions, you can take it from there to explore and deepen your calling and work.
As host of the series, I bring many years of experience as an ordained minister, as co-director of the Learning Pastoral Imagination Project, and as a seminary professor. I'm so excited that this project is coming together, and my hope is that it will inform and inspire you as you continue to grow and expand your ministry practice.
If you or your organization is interested in becoming a partner or supporter in this initiative, please contact us for an overview of ways to be involved.
Watch the Three Minute Ministry Mentor (Promo) from Eileen Campbell-Reed on Vimeo.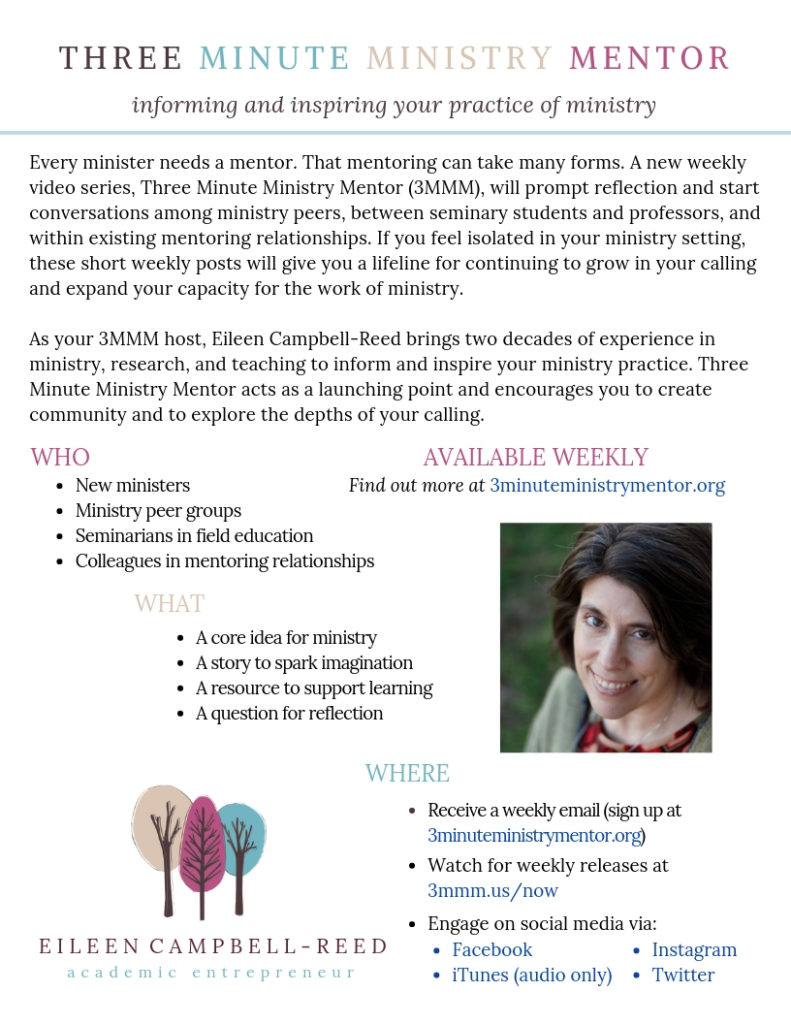 Sign up here to receive more information and weekly links to the
Three Minute Ministry Mentor: