Erosion.
Not a pretty word to think about when it comes to chaplaincy, activism, congregational pastoring, or nonprofit leadership. And yet, it is real. The routines and daily rigors of the work can surely wear ministers down emotionally, relationally and spiritually.
This week's story is about Fr. Lucas, an Orthodox priest leading a congregation in New England.*  When we interviewed him as part of the LPI Project, he told us about one thing he certainly did not expect when he entered the practice of ministry. He was surprised to be entrusted as a minister of the gospel and … to say "This is who I am. Let's go," and then to have his calling slowly eroded over time.
Fr. Lucas says he felt like isolation gradually crept into his daily work of ministry. "And, for me," says Fr. Lucas, "I guess the negative part of all of that is that .. [the] erosion just slowly wears you down."
As Fr. Lucas discovered, finding connections in others who listen and give their support generously, and renewing one's sense of prayer, are two of the most important ways to overcome the isolation that threatens nearly every ministry practice.
Where are you finding the relationships and the practices of prayer that help you not to become isolated in ministry?
Formed for Flourishing
We are grateful for all of our 3MMM partners! And we are especially grateful for the ones who recognize just how important it is for ministers not to try to go it alone.
Our annual partner for Year One of Three Minute Ministry Mentor is Central Seminary. The school is currently launching an initiative to support new and transitioning pastors with mentoring relationships that bring consistent support and relational growth.
Formed for Flourishing, funded with a grant from the Lilly Endowment, is Central's initiative that "utilizes group mentoring for developing skills and deepening relationships followed by one-to-one mentoring as the soil within which healthy, effective leadership is tended."
Grant director Rev. Dr. Angela Jackson is training a team of mentors and focusing on four areas of ministry competency: financial leadership, intercultural competence, conflict transformation, and community engagement.
The next phase of the project is a selection process to identify Central graduates who are serving as new ministers, transitioning ministers, and potential mentors, who may be interested in the Formed for Flourishing program.
Kudos to Central for committing to helping their alumni overcome isolation, build skills and capacities for the practice of ministry, and grow relationally. These are much essential components for the ecology of ministry to thrive.
+++++++++
We are working to help you overcome isolation by sharing good juicy ideas each week and by giving you and your mentors fodder for conversation. You can catch up on the latest episodes of 3MMM right here.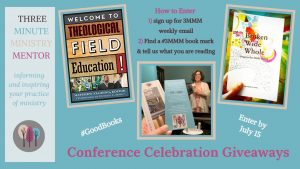 Have you entered the "Summer Conference Celebration Giveaway"?
Just two more days!  Sign up for the weekly 3MMM email, and you will be entered, and you'll get each new episode as they are published. Also you can post on social media and tell us what you are reading this summer!  You'll be entered in the giveaway a second time. Please tag us with #3MMM or use our social media handles.
Do you have some feedback for us?! Please know you are invited to share your thoughts with us, here!
If you are enjoying podcasts this summer, then please check out the weekly 3MMM podcast. You'll find 3MMM on your favorite podcasting platform here!
To receive a weekly email reminder for new episodes, sign up here!
---