This summer has been one of the hardest on record. What a gift to have the wisdom, insights, and pastoral presence of Rev. Dr. Stephanie Crumpton to guide and inspire us!
This week, Dr. Crumpton, who is associate professor at  McCormick Theological Seminary in Chicago, tells us about spaces where she sees activists embracing radical self-care. In addition, we hear some questions by which Dr. Crumpton lives.
In last week's episode, we talked about how churches could think and plan for healing and care for women and girls who have experienced violence.  We also spoke recently about how Black activists working on multiple liberation issues need ways both to bless the past and to embrace new approaches to activism and Black liberation.
In today's video, Dr. Crumpton shares about three organizations she encountered in her research. Each organization, she says, is "backing up the clock to stop for a minute to address how they have been impacted by the work. And [they] address the tools that they have using in the work in ways that our ancestors and elders didn't have time or resources to do."
"They are paying attention," she says, "to creating public space for collective engagement for black interiority." And she also notes, this space-making is happening "in ways that couldn't be permitted in another era." Even now it remains a risk to pay this kind of attention to self-care and joy. Yet these are essential risks, well worth taking.
Dr. Crumpton lifts up the BYP100 project as exemplary for its work on community policing, prison abolition, and Black education and liberation. She also mentions a resource that BYP100 developed after one of its members leveled accusations of sexual assault against a BYP100 leader.  The process for healing that the the two individuals entered into was a communal process.
The way that BYP100 addressed the issue captured the attention of movement historian, Barbara Ransby, who wrote about BYP and other Black organizing group's healing processes in her book, Making all Black Lives Matter: Reimagining Freedom in the 21st Century (University of California Press, 2018).  This was one of many ways that BYP100 seeks to embody its justice commitments internally.
Black Youth Project 100 sets a stellar example for all organizations that wish to create change. For example, they make invite leaders to do their own personal work in carefully tended spaces. And they also allow the values of justice and liberation to inform even the conflicts within the organization.
Questions: What internal healing does your organization, hospital, church, or nonprofit agency need to do? What would be the impact of doing that work on with offering healing initiatives you try to offer your community or neighborhood? How might you need to become willing to speak truth to power?
Named for abolitionist and activist, Harriet Tubman, and located in New York City, Harriet's Apothecary is committed to healing and to the embodied character of healing work. At Harriet's Apothecary you will find an "intergenerational, healing village led by the brilliance and wisdom of Black Cis Women, Queer and Trans healers, artists, health professionals, magicians, activists and ancestors."
I think you will appreciate these excellent questions for re-imagining healing, from Harriet's Apothecary.
Questions: In your own healing work, and it the work of your organization or community, how do you give appropriate attention to the body? How do you see it as a locus of healing modalities? Intentions? Practices?
Patrisse Khan-Cullors
Patrisse Khan-Cullors is an artist, author, and activist. Along with Alicia Garza and Opal Tometi, she is one of three founders of the #BlackLivesMatter movement. As an artist, she focuses both on making the trauma of Black life in the U.S. visible, and she also renders healing visible and imaginable.
Fighting for What Matters: Patrisse Cullors' Approach to Social justice is Artful and Powerful
Questions: How does art support or inspire your healing? How does artistic expression figure in the work of justice, liberation, and physical and mental healing? If art is not your primary way of moving in the world, who can you partner with?
Questions to Live By?
As usual, I closed my interview with Stephanie Crumpton by asking her to tell us the questions she lives by. If you've been listening to our conversations in recent weeks, then you know she has great questions. And these are worth sharing widely!
Sometimes in ministry we need to simply ask: pic.twitter.com/2DkPMngJpC

— Three Minute Ministry Mentor (@3MinuteMin) August 3, 2020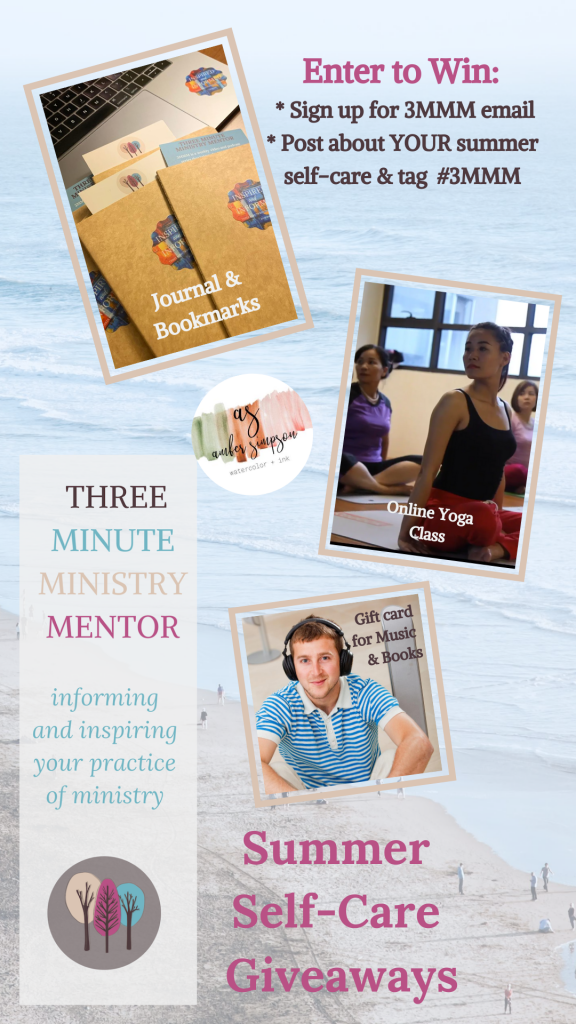 Finally, a few shout-outs. This month we are delighted to be partnering with Amber Simpson Art. Amber is donating original pieces to give away! She most definitely brings her whole self and her desire for healing into her art.
We are also happy to be supporting Deeply Rooted Wellness + Yoga, and we encourage you to visit Erica Rascon online and take a short video class. See what she has to offer in her own apothecary for two with Herbal teas and essential oils.
We have another giveaway coming in two more weeks. Join our email community today! You'll be entered into the next two giveaways!