This week we are going deeper into our conversation with Rev. Alisha Smith Haddock. She is helping us see how multiple factors are impacting the community of North Nashville.
Back in March 2020, Nashville was hit hard by tornados that ripped through Middle Tennessee and destroyed and damaged, houses, churches, businesses and schools. Just a week later the pandemic was declared and the U.S., including Nashville, entered into a "safer at home" period, slowing the recovery.
North Nashville was hit especially hard. And as Rev. Alisha says, "Our issues didn't start on March third." She and other leaders in North Nashville have been working for years, decades, to "right some wrongs for people and a whole community that has been pushed to the margins." Long before the tornado, the 37208 zip code was "a culturally rich place with tremendous historical significance." Yet that area of the city has been coping with:
lack of economic development
absentee landlords
high incarceration rates
All of this was ongoing before the March 3 Tornado. 
++++++
What does it mean to do long-term recovery in a place where it already should have happened before the tornado?

Rev. Alisha Smith Haddock
Rev. Alisha gets right to the heart of the matter when she asks, What does it mean to do long-term recovery in a place where it already should have happened before the tornado? For today's blog we are going to focus on two kinds of ongoing responses in North Nashville.
If you live in another city (as most of you do) please let this activism and these resources inspire you to dig into what is happening in your own city, town or rural area and learn more about how to respond to systemic racism, mass incarceration, disaster recovery, and economic injustice. Collaboration is key for lasting change in communities and lives.
++++++
First, North Nashville faces a long history of police harassment, brutality, and high rates of fining and jailing its community members.
As you recall from our last episode, the Zip Code 37208 is the most heavily incarcerated in the United States, according to a Brookings Institute report in 2018. Nashville is also a city that heavily harasses and profiles Black citizens while they drive and move about the city living their lives. You can read the full Gideon's Army Report "Driving While Black." You can learn for instance, just how disproportionate the stop and arrest rates have been in Nashville for Black and Brown communities.
To understand the patterns of police brutality in this city, here is a really helpful "People's Timeline of 'criminal justice reform' in Nashville." The thread includes helpful links. It also reminds readers about police related deaths of Black Nashvillians. And it also shows clearly the strategies of white leaders to ignore the work and wisdom of Black leaders.
A People's timeline: The last 4 years of "criminal justice reform" in Nashville (thread):

— Jamel Campbell-Gooch (@nashvillered) August 19, 2020
As a recent example, we the people of Nashville voted to have a Community Oversight Board in 2018. As of September 2019, the CoB was operational and started working on investigations. However, to that point, they were denied every request to access police records. Last week Mayor John Cooper appointed a new 40-person board with parallel responsibilities. Again a typical White move to ignore Black leadership and in the case 60% of voting Nashvillians. This is maddening.
++++++
McGruder Center is partnering with Gideon's Army, Corner to Corner, West Nashville Dream Center, The Belonging Co. These agencies and ministries in North Nashville are focusing on both immediate and long-term recovery. The tornado may have slowed down some of these efforts. However, this growing coalition in North Nashville is rolling up their sleeves even further to work on responses which are both short and long-term:
support people in need
increase economic development
increase home ownership and protect renters
work for recovery and healing and redemption
help people build meaningful legacies
Rev. Alisha provided us with a list of groups who are working together to respond and organize resources for the people of North Nashville. Here is a list that you can share. I encourage you to consider donating your time and financial resources to "Rebuild North Nashville."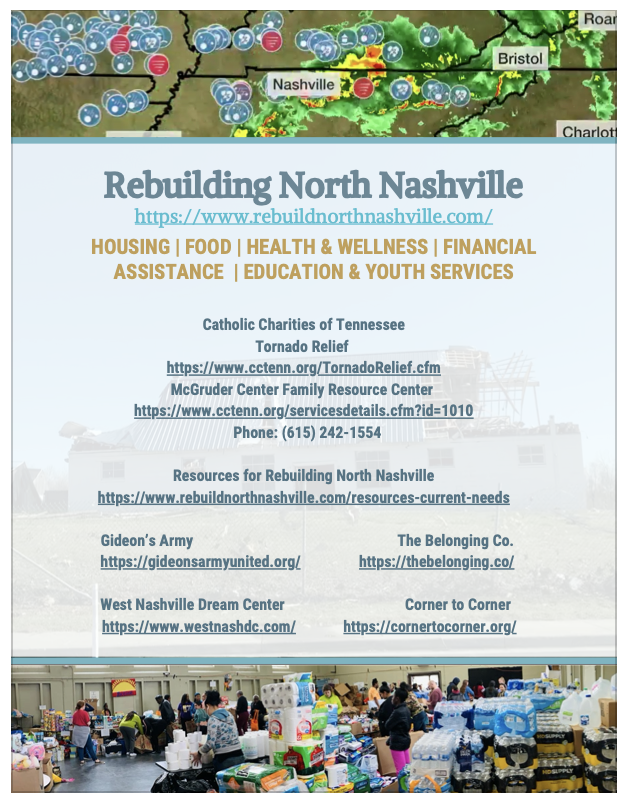 Here is a flyer to help you find ways to donate, volunteer, and support  rebuilding efforts. Download the resource flyer here:
Rebuilding North Nashville 08-20
"In the midst of tragedy, there can be triumph."
-Rev. Alisha Smith Haddock