"I knew early on I was called
to this work."

-Rev. Alisha Smith Haddock
Called to ministry
Vocational calling comes in all different sizes, shapes and forms. Traditional congregational ministry, in spite of what people think, is not the only reason to attend seminary or seek ordination. There are many ways to live one's call.
This week I want you to meet Rev. Alisha Smith Haddock. We will be learning from her in the next few weeks how her multi-vocational ministry is coming to life in Nashville. She ministers through her church as associate pastor of Christian Journey Fellowship Church. And she is also Community-Based Services Director at the McGruder Center in North Nashville.
The McGruder Center is a hub of activity, community services and the arts. For example the center houses hospitality industry training, after-school tutoring, and tornado relief. McGruder is also a gathering place for important city-wide conversations.
Called to community
I asked Rev. Alisha how she would describe her vocation and what keeps  her feeling the fire of her call. She told me about being born into the community of North Nashville, and how she grew up seeing injustices. She says living in this neighborhood all of her life has shown her how much systemic injustices shape North Nashville. They also give shape to her calling. In response to these needs, she says, "My work is to bring justice where it is hard to be found."
How do you describe your calling?
This is how Rev. Alisha Smith Haddock @HearSheComes
understands her vocation. pic.twitter.com/bo3vQjOTg3

— Three Minute Ministry Mentor (@3MinuteMin) August 17, 2020
As a part of responding to her community, Rev. Alisha began directing the work of the McGruder Center in 2016. In these four years, she says, the community keeps coming together to expand the work of the hub. Her story is one of being apprenticed to her neighborhood, a situation crying out for a ministry of justice in North Nashville.
What is your calling? Your work in the world? What has you on fire?
Called to action
One of the important conversations at McGruder in the last two years is part of an ongoing response to a 2018 Brookings Institute report about incarceration and work. The Brookings report focuses on young people in the US. And the study identifies the rates of imprisonment for ZIP Codes in the United States.
Where is the ZIP with the with the most incarcerations per capita? It is right here in Nashville Tennessee. The ZIP Code is 37208, home to North Nashville and the McGruder Center. Most of the people living in 37208 identify as African-American. And 14% of men and women combined, living in North Nashville, and born between 1980 and 1986, have been imprisoned.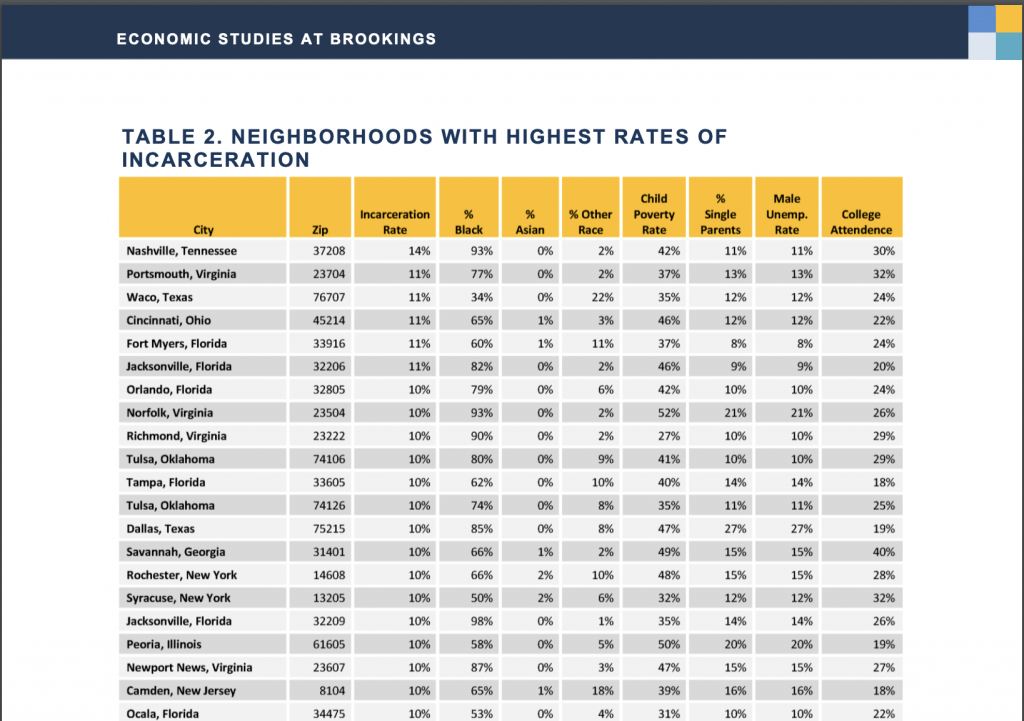 Both the church where Alisha is associate pastor and the McGruder Center take this reality seriously. But they already knew that high rates of police brutality and imprisonment were part of daily life in North Nashville.
In the next two weeks we will learn more about the work of justice that Rev. Alisha is leading and making space for at McGruder Center.
I asked Rev. Alisha if after four years she still thinks about her work at the McGruder Center as her "dream job." She said, "Yes! Every day the ante has been upped. Everyday I feel fulfilled." Yet there is no resting on her laurels, no getting too comfortable that the Center is doing all it can. She says, "We always have opportunities to do more. That is the blessing of ministry. You don't have to stop… There is always more… that we can seek and more that we can give."
What is your calling? 
How can you do more? Where is the ante going up in your own neighborhood? What or who is calling you to give?
If you are looking for a way to support remedies for mass incarceration, relief for tornado victims in Nashville, or simply a clear path to support meaningful change, you can volunteer or donate to the McGruder Center.
If you live in another part of the country, look around. What are the local community centers and faith based projects of your city or county doing to help families in need, children going back to school, ending the injustice of mass incarceration, or recovery from disasters? Ask yourself if this is part of the more you are called to right now.
++++++++
We still believe every calling needs the support of sabbath rest and self-care. Join us this summer in focusing intentionally on self-care to renew your energy for the work of your calling!