Learning in practice
We started this year with grand plans of sharing interviews with professors, pastors, activists and mentors in ministry. Then by March the whole world was upside down. We pivoted many times as the year unfolded. And we reconfigured our plans. Along the way we lost some audio and video. Yet with a great team and wonderful guests, we kept finding meaningful ways to respond to the unprecedented world. And we continued curating weekly episodes to inform and inspire our followers.
I am grateful for the growing community of people who want to learn with us at Three Minute Ministry Mentor. We realized our best offering is to be a resource for you. Thus we shine the spotlight on people who can help us all learn, become, and call on our best selves. I am so grateful for every guest this year who shared their wisdom and insights with us!
Yet we also cannot do what we do without people like you!  We need everyone who learns along with us to also share and amplify the voices and stories we feature on 3MMM. Thanks to each of you who are part of expanding this important set of conversations about learning in practice. We are grateful for you!
Learning in Pandemic Times
A lot of this year has been about learning to pause and breathe. The COVID-19 pandemic continues to threaten the physical breath and life of millions of people worldwide. In the US we are also witnessing the pandemic of racialized healthcare inequality and state sponsored violence that continues to impact Black, Indigenous Peoples and people of color (BIPOC) at much higher rates. We worked hard this year to bring you voices to help us all understand and interpret these multiple pandemics.
We have all learned in practice this year as the pandemics came in waves and challenged every part of our lives. Perhaps in your focus on just keeping life afloat, you missed some important time for reflection on the events of the year? This week's post is an opportunity to take stock, look back, and see what might help you in your current and future practice of ministry. Our topics are universal and perennial. Adult human learning is very similar across many practices of life. And questions for reflection can help us to keep learning at each new stage of practice.
For example in everyday life, I know how to cook. And I've been cooking most of my life since my teen years. Yet cooking when resources were limited? Cooking more often because we were staying at home? Or cooking when we really would rather be doing anything else? These became new challenges in 2020. The practice of cooking remains, and yet it also shifts in these times in which we are living. Much of the same can be said about the practice of ministry.
Wherever you are along the pathway of learning and practice, we think these topics (and they are not exhaustive) can give you food for thought. And we always offer questions to prompt your self-reflection.
Guest Interviews
Season One of Three Minute Ministry Mentor (2019) was all about sharing what it means to learn and practice. Out of that year has grown a book which will be published in May 2021. Pastoral Imagination: Bringing the Practice of Ministry to Life expands on that learning and tells more stories, shares more resources, and asks more questions. We think you will like it!
Season Two of Three Minute Ministry Mentor focused on interviews  that highlight all kinds of excellent learning. Here are our top videos for 2020. We think you will find them most definitely worth revisiting.

++++++++
During this year we also found that several series of episodes emerged and cut across the various interviews and guest blogs. One of the earliest of these to emerge as a focus on #PandemicGrief. We think you will find a treasure of supportive insights in those posts. Another set of posts to emerge is related to #PandemicPastoring. Given the challenges of leading faith communities, we gathered resources and ideas to support your work.
And given the impact of both my seminary teaching and the fact that parents everywhere became homeschool teachers overnight, we found a number of posts focussing on #PandemicPedagogy.
As the coronavirus pandemic wore on, so did the assault on Black lives.  And with grace and compassion our guests responded with insight, inspiration, and a challenge to becoming anti-racist so we might work together for an end to violence and to prioritize the flourishing of Black lives.
As new concerns arose over how to survive the work of ministry in 2020, we enlisted guests to write blogs addressing various aspects of the year's unanticipated demands. They graciously spoke to many aspects of ministry life. Our occasional series on "How to Survive…" addresses  children's and youth ministry, chaplaincy and internships, and even how to survive pastoring through a major disaster to Advent in a pandemic.
Twelve Days of Christmas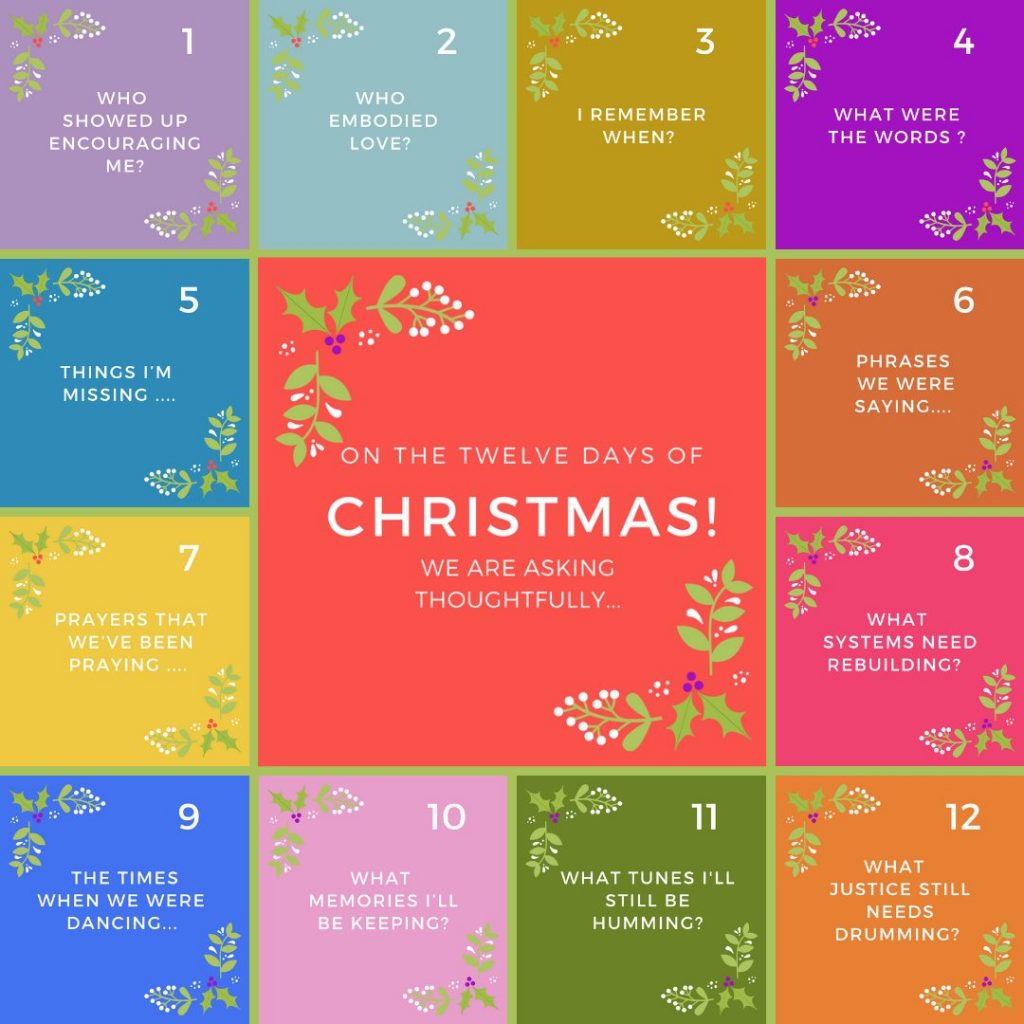 To help us close out 2020 (which in many ways will not exactly end) we are offering questions for your consideration. We hope you might take these days of Christmastide to turn the page of the calendar by putting some frames around this strange and terrible year of our lives. Taking time to mark time, to explore meaning, and to give thanks are ways we care for our world and each other.
So we are inviting you into this reflective work through a series of questions on social media. You'll find us at 3MMM on Instagram, and 3MMM on Facebook and 3MMM on Twitter.
We hope you will join us! Please share these questions and give your own responses to them as well.  Share them with your communities of faith, the people you lead. We invite you to take the challenge of posting a question each day and sharing your answer to it.