The end of 2020 and start of 2021 are full of news for Three Minute Ministry Mentor, Pastoral Imagination, and you! We could not be happier to share it all!
Most popular article of 2020 at The Christian Century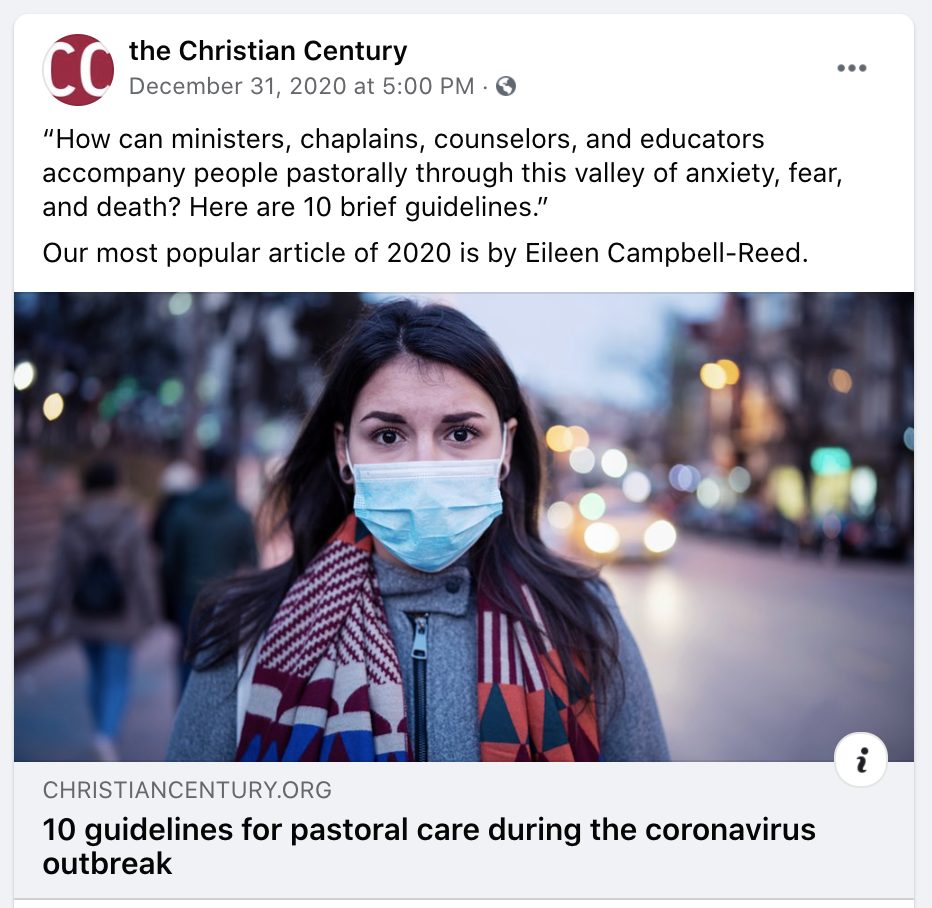 Let's begin with 2020. In early March I wrote a piece for The Christian Century blog that offered best practices for pastoral and spiritual care through a crisis. The CC published "10 guidelines for pastoral care during the coronavirus outbreak" on March 10.
At that point the Centers for Disease Control and World Health Organization officials continued debating whether we were experiencing a "global pandemic" or not. The piece came to me in a rush of ideas on the final weekend that I attended church in person. Taking seriously the predictions and news coming out of Asia and Europe, I imagined a potential catastrophe. I tried to think about how spiritual leaders could accompany their people. Many of you shared it. Thank you. And because it was early, I suppose, and clear, it spread quickly. It feels ironic that my first truly 'viral post' was in response to the Covid-19 pandemic.
To be clear, I had no idea how to imagine the scale of the crisis. And the pandemic continues to reveal many layers of injustice. After nearly ten months, millions of cases of Covid-19, and over 1.8 million deaths globally, we still need to be looking after one another every day with the greatest of care. The vaccine is on its way, but we are far from the end of this crisis.
"From Imagining Ministry to Pastoral Imagination" 
Louisville Institute Grant (2021-22)

Some very big news for the Learning Pastoral Imagination Project also arrived at the end of 2020! We are excited to share the news that the Louisville Institute awarded the LPI Project a  Grant for Researchers. This means that Chris Scharen and I will continue on with (virtual/remote) interviews of the 50 ministers in our study. The pastors, chaplains, educators, and leaders in various ministry settings will be reaching their tenth year post-seminary. We have been following them since they graduated from seminary (2009-11).
The LPI Project is the first longitudinal, national, and ecumenical study of ministry in practice, which: 1) follows pastoral leaders over the long arc of learning from seminary through their lives in ministry; 2) focuses on how, in a variety of congregations and contexts, ministers learn and embody pastoral imagination, an integrative spiritual and practical wisdom; and 3) responds to cultural complexity and fragmentation in theological education and religious life in the United States.
Want to know more? Read and download the LPI Five Year Report to discover more on about learning ministry in practice. Then watch for my new book Pastoral Imagination: Bringing the Practice of Ministry to Life in 2021!
Season Three of Three Minute Ministry Mentor begins January 11

We are so excited to launch Season Three of Three Minute Ministry Mentor!
This season we have newly close captioned videos sponsored by our friends at Central Seminary. Many thanks, Central, for making these topical videos more accessible to everyone.
In Season Three, we will feature weekly interviews with authors, professors and ministers who help us learn in practice. We also have lots of new ways to connect you to each other! Because if we want to learn how we do justice, give care, partner in ministry, and cultivate pastoral imagination we need all the partners and support we can get! To receive each weekly episode directly to your inbox, sign up here. 
Still room at the Writing Table

Are you a writer? A preacher? Working on your dissertation? A sermon? A book? A conference proposal?
Maybe you have other writing goals, even personal reflection to transition into the new year.
Over the Winter Break pastors, consultants, professors and students are gathering at the Writing Table for a good hour of supported writing time. We don't talk about the content of our projects. We just help each other get it done with time, space and just a little accountability. Join us this week by signing up today. It's free and it will help your work to be strong and ready!
Pastoral Imagination: Bringing the Practice of Ministry to Life (May 2021)

The final proofs for my next book are due back this week! The book is now available for pre-order at Amazon and other book sellers, and it will be released in May of 2021.
You can read more about Pastoral Imagination and how the book captures the subtle capacity of learning in practice. Hint: It's kind of like riding a bike.
We have more ways to get the book into your hands this year, so stay tuned for news about a virtual book tour, your opportunity to join the launch team and how to get a free journal to go with the book. You don't want to miss any of this? Subscribe to our weekly email and be the first to learn more!
Twelve Days of Christmas 

On the twelve days of Christmas we are asking thoughtfully… Join us in responding to questions for reflecting and remembering as well as preparing for a new calendar year.
We love seeding the world with good questions! So we composed questions for your consideration as we close the door on 2020 and open new doors and windows on 2021. We hope you might take these days of Christmastide to turn the page of the calendar with us. Put a frame around the grief and exhaustion of this year of our lives. Take time to mark time. Reflect on possible meanings. And most of all appreciate ways we care for our world, ourselves, and each other.
Join us in this reflective work as we post the questions on social media. You'll find us at 3MMM on Instagram, and 3MMM on Facebook and 3MMM on Twitter.
We hope you will join us! Please share these images and questions wherever you like. And remember to give your own responses to them as well! Share them with your communities of faith, the people you lead. We invite you to take the challenge of posting a question each day and sharing your answer to it.