"Seasons of Ministry"
On Sunday afternoon I was driving to my church for a leadership council meeting. Just as I turned right into the driveway at Glendale Baptist, a van was pulling up to turn right out of the driveway. I put my brakes on. And I stared hard. "What?!" I said it several times, rolling down my window.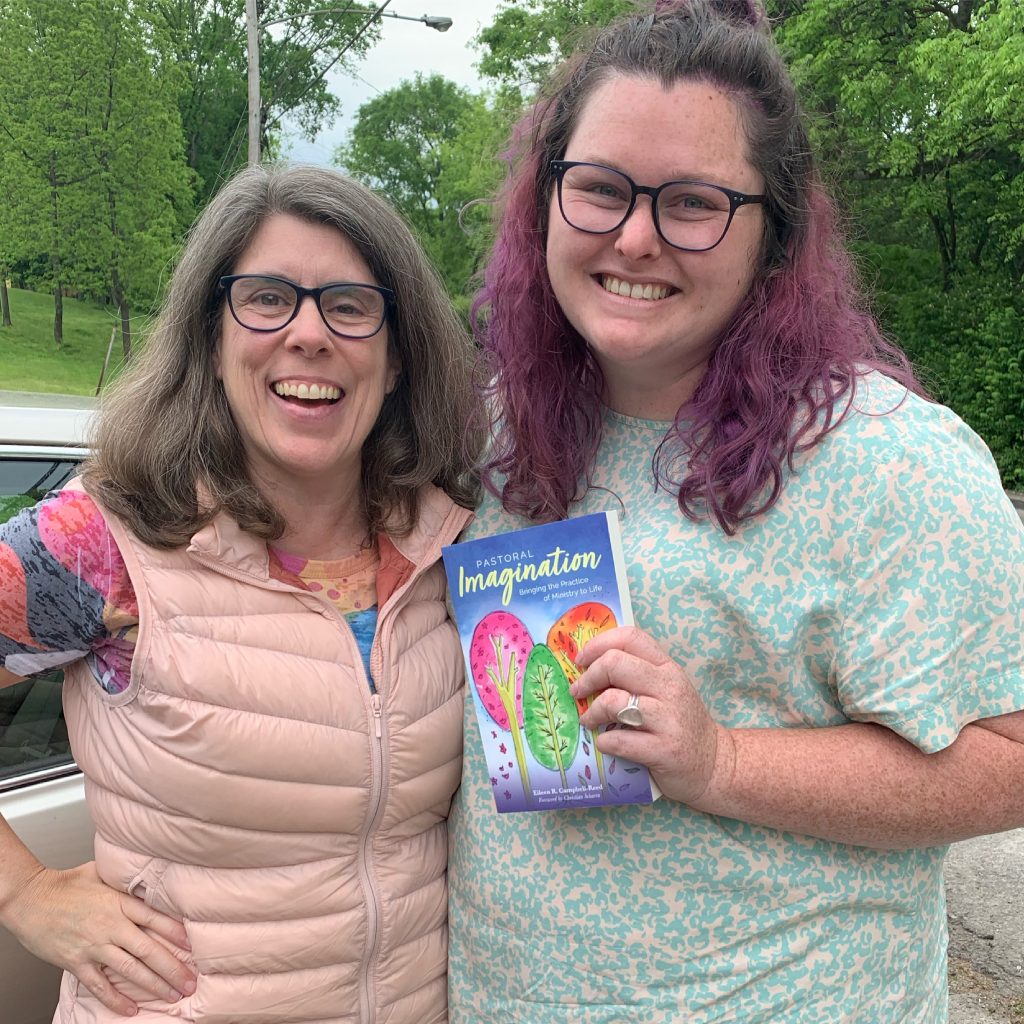 It was Scotti and Amber Simpson. I could not believe my eyes! I had no idea they would be in Nashville, and if I arrived one minute later, I would've missed them! But we jumped out of our vehicles to share (fully vaccinated) hugs. Fortunately I had grabbed two copies of my book. And I was able to put one into Amber's hands. I even signed it during our brief driveway visit!
I have not seen Amber in person, since January 2020. Yet we talk, text, zoom, and email regularly. We have been working together on some important things. The pandemic year was a hard season to start out in full-time ministry. So we checked in often.
One year ago, Amber was finishing seminary. She and I had not yet begun to work on the commission for Three Minute Ministry Mentor. After weeks of summer collaboration, she finished the piece. It's title is "Seasons of Ministry." That piece of art now lives on the cover of my book Pastoral Imagination: Bringing the Practice of Ministry to Life and the Companion Journal. 
+ + + + + + +
Recently I interviewed Amber about becoming a minister and artist. In that first part of our conversation, we talked about learning in practice, embracing creativity, and her love of teaching. In this week's interview, we talk about how we worked together. It was partly a matter of gaining clarity about a vision for the piece she was creating. And it was partly the evolution of trial-and-error. Mostly it was about trusting the process and our friendship to let the piece evolve into what it finally became.
One of the "aha moments" for me in the collaboration came in seeing how patience paid off. Or to put it another way, trusting the process can lead to a creative outcome.
In the second part of our interview, Amber and I recount more of the story, as well as some of our learning process. And we also find out what questions she lives by and what books are on her current "must read" list.
How "Seasons of Ministry" captures pastoral imagination
I sent these observations about "Seasons of Ministry" to the design team at Fortress Press.
It echoes the three trees in the project Three Minute Ministry Mentor, where my new book Pastoral Imagination: Bringing the Practice of Ministry to Life originated. 
Former student, minister, and artist, Amber Simpson created the original piece. We worked through a collaborative process which itself demonstrates the many layers by which growth and learning happen.
I really appreciate the bold yet subtle colors in the palette and the way Amber used watercolor and ink to create the design.
The trees themselves give us spring, summer, and autumn. Ministry is seasonal and grows over time both in the short term and long term. There's movement in the design of drifting leaves, falling blooms, clouds and movement in the sky. Are they stars, birds, dragonflies? All these hints of animation serve to fire the imagination and leave open-ended  many potential interpretations. Together the movement and the imagination echo the lively and life-giving practice of ministry.
This fourth iteration of the design incorporates hints of the groundedness and rootedness of the trees. Every vocation of ministry from activism to chaplaincy to congregational pastoring, needs to be grounded and rooted in the love of God through the call of a community.
Imagination is required for seeing three trees next to one another in three different seasons. Yet the metaphor carries the weight of how we learn more than one thing at a time. And we can be in a different season of growth or decay in different areas of our practice of ministry. Winter is only represented in the deeper blues of the sky and stars, but this is a book about the newness of ministry — for novices and beginners — and not focused explicitly on the final seasons moving toward maturity, wisdom, or grief, that winter often represents, and yet it is there subtly.
Fortunately the design team agreed. And so the depths of our collaborative process, and the image itself, now capture the richness of learning in practice.
+ + + + + + +
Aha Moments
This week's featured topic is "Aha Moments." When we interview ministers and pastors and chaplains in the Learning Pastoral Imagination Project, they often tell us stories that we've come to call "aha moments" or Holy Cow Moments. These powerful stories capture experiences when things come together, fall into place, and propel people into a new sense of identity. A-ha moments come in many shapes and sizes, sometimes after a long attempts to reach a new understanding. At other times they come in what seems like a flash. Yet even those moments are they in folding experience
3MMM | Episode 17: Aha Moments from Eileen Campbell-Reed on Vimeo.
Visit Amber's site sign up for her newsletter. More new creations are emerging each week. Also join me and Amber at my Book Launch Party on May 11. We will be giving away some of Amber's art in a drawing during the event! RSVP today!
And please RSVP today for the book launch on Tuesday, May 11. I hope to see you there!