In my new book Pastoral Imagination: Bringing the Practice of Ministry to Life, I address preaching in multiple chapters. I was fortunate to learn from wise and skilled pastors and professors in my years of seminary. Many of the concepts and practices continue to bear fruit in my teaching and preaching even now.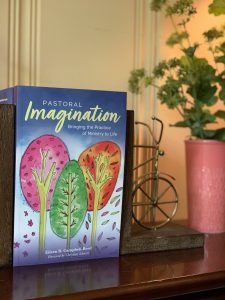 Dr. Chuck Bugg was my homiletics professor in seminary. He taught me, "When you're preaching, you need to be able to see clearly with your inner eye what it is you are saying. You can't simply be saying the words that are on the page or sharing good ideas. You need to visualize the message and then describe it to your listeners in ways they can follow you."
I did not fully understand what this advice meant until I became a more experienced preacher. When I gradually stopped focusing on how I was doing and started focusing on what the community needed to hear, Dr. Bugg's wisdom about visualizing the sermon became clearer and clearer to me.
Preaching Jesus
Chapter 18 of Pastoral Imagination takes on the topic of "Preaching Jesus." This is about as basic as it gets in pastoral training for Christian leaders across every tradition and denomination. Even if a minister does not consider themselves a preacher, they still hold the task and obligation to teach and represent the central figure of Jesus in their calling and work.
My pastor while I was in seminary was Dr. Jim England. I learned some important things about preaching Jesus from him. He was also my preaching instructor in my Clinical Pastoral Education cohort.
One of the greatest temptations in preaching Jesus? Getting behind him and preaching as if we are all #TeamJesus. We make Jesus the hero of the story. Then we put ourselves in the role of the protagonist. If we are on the same side as Jesus, we judge those to whom Jesus was speaking. The problem? The words of Jesus are not just for all the other people. They are for us, too.
Jim England taught us, "When you are preparing to preach, come out from hiding behind Jesus. Stop looking over his shoulder. Stop judging everyone he was talking to. Step out in front of Jesus and hear the words that he says."
Not only did I need to understand what Jesus was saying to me. I needed to understand more clearly who Jesus is. Fortunately my seminary professors in Bible and Preaching helped me with the overarching issue of understanding Jesus in his Jewish context. However, most of their warnings were about teaching and preaching the passion narratives.
There was so much more I needed to understand as a beginning preacher.
The Jewishness of Jesus
Dr. Amy-Jill Levine is a New Testament Scholar and professor at Vanderbilt University and Divinity School. She is our featured author this week. (See her interview below.) And she has a long list of reasons that both Christians and Jews need to understand the Jewishness of Jesus.
Dr. Levine notes in a Religion & Ethics NewsWeekly interview, "Often Christian preaching and teaching goes astray." She says the problem arises when Jesus is "yanked out of his Jewish context. And he becomes the only Jew who is compassionate toward women. Or interested in adapting the law to the needs contemporary community. Or the only Jew interested in peace…"
We need to counter these misinterpretations. In order to do that, she says, "We need to see Jesus as embedded in Judaism. And we need to avoid the terrible stereotypes that sometimes creep into Christian teaching." (Religion & Ethics NewsWeekly).
A second reason that we need to deep in our understanding of the Judaism of Jesus is to reduce harm between communities. As she notes, "Interpretations of the New Testament have given rise to quite difficult relations between church and synagogue" (Religion & Ethics NewsWeekly).
And in The Misunderstood Jew, Dr. Levine suggests yet a third reason we need a better understanding. "Today Jesus's words are too familiar," says Levine, "too domesticated, too stripped of their initial edginess and urgency. Only when heard through first-century Jewish ears can their original edginess and urgency be recovered" (The Misunderstood Jew, 7).
Like my friend and pastor Jim England, Amy-Jill Levine wants us to really hear and see Jesus. Before we start preaching Jesus.
Preaching Jesus | video | blog | podcast
Learning in Practice with Amy-Jill Levine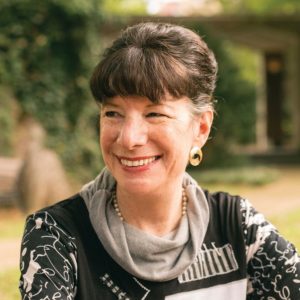 I am thrilled this week to bring you an author interview with Dr. Amy-Jill Levine, preeminent scholar and internationally acclaimed lecturer and expert in New Testament studies.
Dr. Levine is University Professor of New Testament and Jewish Studies and Mary Jane Werthan Professor in Jewish Studies at Vanderbilt University. She has been a stronghold of scholarship and teaching, a favored dynamic lecturer, and mentor to hundreds of students at the Divinity School since 1994. This spring Dr. Levine is retiring after 27 years on faculty at Vanderbilt. Her achievements in lecturing, publishing, and influencing the field of New Testament Studies are unparalleled. She also holds a long and unwavering commitment, in her words, "to keeping Jews and Christians from doing harm to one another." She even writes children's books which are delightful! See a longer list of titles below.
What questions do you live by? 
AJL: When I was a child, my mother met me at the bus that dropped me off from school; as we walked home, she would say, "Did you ask any good questions today?" She wanted to know what sparked my imagination, and then we would talk about the subject. She also wanted to know whether I read or heard anything that confused me or, as far as I could tell, struck me as just plain wrong.  Asking questions has become second nature to me. For my academic work, the question  "What is the evidence for this claim?" provides a guide, and it has since I realized years ago that academically credentialed people make numerous assertions – especially about biblical texts concerning women and Jews – unsupported by good historical investigation.
What questions do you wrestle with in your scholarship and teaching?
AJL: In teaching, I do not find that I am "wrestling" as much as dancing or composing or whatever artistic rather than agonistic metaphor is available. I want my students to have the tools necessary to do biblical interpretation well, whether they want to focus on texts in their historical contexts, how the texts were understood in reception history, or what the texts might say to a present-day audience. This concern includes maintaining high standards for writing: too often great ideas are buried beneath logorrhea, jargon, jumps in logic, poor organization, and lack of clarity.
In scholarship, along with trying to determine which books or articles I need to read now, and which can wait (an eternal problem), I wrestle with texts that have been used in harmful ways regarding gender/sexuality, ethnicity, faith, ableism, and other social sins. To dismiss or ignore such texts is to do a disservice to conservative readers who regard the Bible as inspired but who are also wrestling with their interpretations; I seek readings that help people find either life-affirming messages or counter-texts and critical tools to help them do their own wrestling.
AJL: I do wrestle with preventing disappointment from giving way to despair. Numerous governing bodies—including the Association of Theological Schools, my home institution, Vanderbilt Divinity School, most Christian denominations — have refused to take action in preventing anti-Jewish teaching and preaching. Names associated with slavery and sexual abuse are being removed from public display, or at least contextualized, but most churches have not instituted changes in ministerial education, in lectionary readings, in church art and hymnals and children's books and numerous other outlets where anti-Jewish material can be heard and seen.
One of our aims is to help new ministers preach Jesus in ways that respect his Jewishness as well as engage Jesus robustly. Can you tell us how you came to write Misunderstood Jew? When you are teaching the New Testament to students at VDS in what ways do you prepare them to understand and convey who Jesus is in their subsequent work and study?
AJL: I wrote Misunderstood Jew because an editor at HarperOne, having heard me lecture on the topic of Jesus in his Jewish context — and on how so many popular Christian readings deform that context — invited me to do so. Jesus and Paul have splendid things to say, and I do not read them as anti-Jewish. Nor do I require a negative setting against which to recognize their genius. To the contrary, they are part of Jewish history.
The problem: countless sermons and Bible studies promote toxic images of Jews and Judaism. And the irony is those who promote this toxicity have no clue that they are purveying hate. Such preachers and teachers manifest what we might call Christian privilege: they do not recognize how their traditional interpretations demean Jews and Judaism. When I suggest how sermons and studies can do better, preachers and teachers frequently respond in ways that comport with what we might call "Christian fragility": I'm not anti-Jewish, I didn't mean all Jews, you're over-reacting; Judaism really is ossified, there are other problems we need to address, Jews say bad things about Christians; I cannot say prejudicial things because I am minoritized and to be a bigot requires power, I'm just saying what's in the Bible… and so on.
Defensiveness, rather than acknowledgment of the problem, keeps the privilege in place.
In class, I do not spend much time lecturing on Jews and Judaism, because there are numerous other matters that require discussion. I do assign the notes and essays in the second edition (2017) of The Jewish Annotated New Testament (eds. Amy-Jill Levine and Marc Z. Brettler; Oxford University Press), including my essay on the common mistakes made about Second Temple Judaism.
Dr. Levine discusses the Jewish context of the New Testament writings and life of Jesus. 
What are some ways you notice that your teaching and scholarship have changed over time? 
AJL: Biblical studies follows work in literature, history, anthropology, sociology, etc. I read work in multiple fields not to find a new method into which to stick a text, as if the method were a meat grinder used to spit out new insights, but to find new questions to pose the ancient sources. Each time I teach a seminar, I change the reading list; I focus less on major commentaries than on new articles from a variety of sources. And utilize a variety of approaches and voices.
What is on your must-read list right now?  
AJL: David Horrell's Ethnicity and Inclusion: Religion, Race, and Whiteness in Construction of Jewish and Christian Identities; Giovanni B. Bazzana's Having the Spirit of Christ: Spirit Possession and Exorcism in Early Christ Groups; three books to review, and two manuscripts to edit.
Every day I read on-line the New York Times, the National Catholic Reporter, Ha'aretz, and the local newspaper. When walking the dog, I listen on the public library's Overdrive app to murder mysteries (where the good guys always win).
Additional books by Dr. Amy-Jill Levine to consider for your library
+++++++
I am grateful for Jim England and Check Bugg and Amy-Jill Levine and many other wise teachers and preachers for helping me to hear the words of Jesus more clearly and authentically. And to aim to preach the words and life of Jesus with purpose and care, vision and vulnerability.
Who has helped you learn to preach? What are you still learning about preaching Jesus?